Stuck Up & Stupid
Angourie Rice, Kate Rice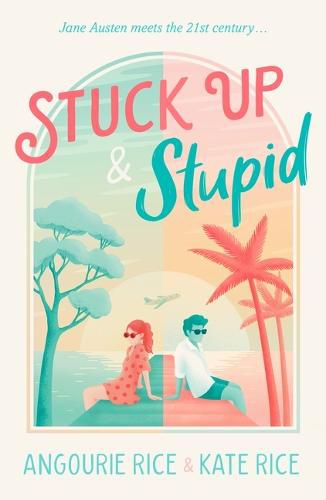 Stuck Up & Stupid
The only thing worse than cleaning up after celebrities was having to watch her own family trying to impress them.
The quiet coastal community of Pippi Beach is rocked when a party of young Hollywood movie stars and influencers arrives for the summer. Like most of the locals, mum Lydia is thrilled but her teenage daughter Lily finds the Hollywood types are superficial and arrogant - especially Dorian Khan, the most famous of them all. She is soon to discover that first impressions can be deceiving.
This hilarious debut turns a much loved classic into a contemporary hit - written by Angourie Rice, internationally acclaimed actor and host of the literary podcast The Community Library, and her award winning playwright mother, Kate Rice.
Review
Stuck Up and Stupid is a modern retelling of the much-beloved Pride and Prejudice. The story follows Lily, who lives in the quiet coastal town of Pippi Beach in NSW with her man-obsessed mother, Lydia. When Hollywood stars Casey Brandon and Dorian Khan show up at Pippi for a holiday, Lydia and the rest of the town are delighted. But Lily couldn't care less, especially about the extremely arrogant and condescending Dorian. Despite her best attempts, Lily finds herself spending a lot of time with the stars because her cousin, Juliet, is falling for Casey. When the Hollywood stars leave with barely a wave goodbye, Lily knows she was right about them. But while on a holiday in LA, Lily keeps running into Dorian. Could she have been wrong about him all along?
Angourie and Kate Rice really captured the essence of Jane Austen's classic and have managed to take a well-known story and make it their own. All the characters you know and love are present, with a modern twist. Of course, nothing will compare to Jane Austen's original, and if you're a die-hard Pride and Prejudice fan, this might not be the book for you. And definitely don't go into it expecting a word-for-word retelling. But if you're looking for a fresh take on a beloved story, then this fun and ridiculous book is a hilarious, fast-paced read for ages 13+
This item is in-stock at 8 shops and will ship in 3-4 days
Our stock data is updated periodically, and availability may change throughout the day for in-demand items. Please call the relevant shop for the most current stock information. Prices are subject to change without notice.