My Spare Heart
Jared Thomas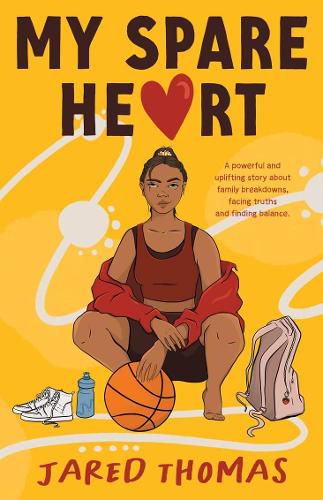 My Spare Heart
I mean, Mum didn't drink that much. All of my friends' parents loved their champagne or whatever. Everyone drank in The Village, too. I'd only been there for about a month and there'd already been five wine and food festivals. Mum's drinking wasn't a big deal. Right?   
Phoebe's non-Indigenous mother, a busy event manager, and her father, an Aboriginal man and uni lecturer, have split up and she's moved to sleepy old Willunga with him and his new health-obsessed girlfriend. It's only a few kilometres from Phoebe's old friends and the city, but it feels like another world.    
Her new school is full of hippies, but some of the kids are cool and the local basketball team is tight, and before long Phoebe's fitting in. But as her mum becomes increasingly unreliable, Phoebe's grades begin to suffer, her place on the basketball team is under threat and her worries spiral out of control.    
Phoebe can't tell her friends and is worried her dad will get angry, but pretending everything is fine is breaking her heart. How can she help her mum without tearing her family apart?   
'A story with grit, authenticity of voice and characters who show strength in identity and culture.' Anita Heiss, award-winning author of Bila Yarrudhanggalangdhuray   
'This book will move you. It navigates the mess, chaos and complexities of life with grace.' Rebecca Lim, award-winning author of Tiger Daughter   
'Honest, raw and full of heart.' Tobias Madden, author of Anything But Fine
Review
Don't let the cover fool you, this is not just a book about basketball. Seventeen-year-old Phoebe's life has been turned upside down. Her dad has moved her away from her home, her mum, her school and her friends to live with his new health-obsessed girlfriend, Caitlin, and to attend a 'hippie school' where she's the only First Nations student. Phoebe loves her mum, who's the constant target of criticism from her dad and Caitlin. Yes, her mum drinks, but so does everyone else's parents. But when her mum keeps letting her down, Phoebe starts to realise that the drinking isn't as harmless as she thought.
This is a tender story about the struggles of growing up. Phoebe is dealing with a lot: dividing her loyalties between her parents, confronting the ignorance and racism of her fellow students, experiencing her first crush, and of course, making it onto the local basketball team.
Jared Thomas seamlessly weaves First Nations culture into the narrative; when Phoebe is overwhelmed by external pressures, her dad takes her to Country, helping her to re-centre through their powerful connection to the land. Phoebe faces a lot of trauma, which at times can feel overwhelming to read. What I loved most, however, is how Thomas uses the narrative to debunk the racist myths regarding Aboriginal people and alcohol abuse, showing that it's a much broader multifaceted issue.
My Spare Heart is a powerful and crucial story by a First Nations YA writer that explores alcoholism, racism, sexual assault, bullying and family dynamics. It is a welcome addition to school and library collections for readers ages 15+.
---
Lucie Dess is the marketing assistant at Readings
This item is not currently in-stock. It can be ordered online and is expected to ship in 3-5 days
Our stock data is updated periodically, and availability may change throughout the day for in-demand items. Please call the relevant shop for the most current stock information. Prices are subject to change without notice.