Underground: Marsupial Outlaws and Other Rebels of Australia's War in Vietnam
Mirranda Burton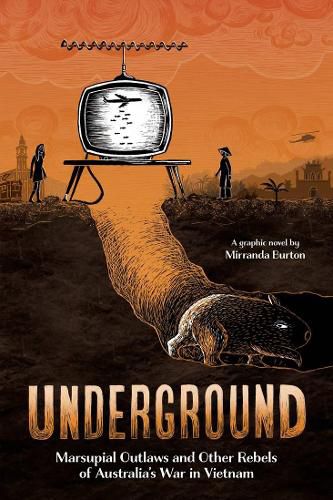 Underground: Marsupial Outlaws and Other Rebels of Australia's War in Vietnam
Winner of The Readings Young Adult Prize 2022
Why would a wombat be registered for war?
It's 1965, and an old Tattersalls barrel starts rolling marbles to randomly conscript young Australian men to fight in the war in Vietnam. Melbourne housewife Jean McLean is outraged, as are her artist friends Clif and Marlene Pugh, who live in the country with their wombat, Hooper.
Determined to wreck the system, Jean forms the Save Our Sons movement's Victorian branch, and she and her supporters take to the streets to protest. Meanwhile, in the small country town of Katunga, Bill Cantwell joins the Australian Army, and in Saigon, young Mai Ho is writing letters to South Vietnamese soldiers from her school desk. And when Hooper's call-up papers arrive, he mysteriously goes underground…
As these stories intersect in unexpected ways and destinies entwine, a new world gradually emerges - a world in which bridges of understanding make more sense than war. This stunning graphic novel, full of empathy, courage and resistance, is based on true events.
Review
It's the 1960s, and the Australian government has begun conscripting young men to fight in Vietnam. Melbourne housewife Jean McLean and her friends, the Pughs, are determined to protest the draft, and begin the Save Our Sons movement. Meanwhile, teenager Bill Cantwell signs up for the army after his family's rural orchard is sold off. And in Saigon, a young girl named Mai Ho asks her father to help her understand: why is her homeland at war in the first place?
Mirranda Burton's new graphic novel tells these intertwining stories – all of them based on real people – with deep empathy and painstakingly thorough research. Much of the book stems from interviews she conducted with veterans, anti-war activists and refugees. She presents their stories in bold and energetic cartoons, interspersed with darkly dramatic full-page scratchboard illustrations. Fans of Shaun Tan's The Arrival or Art Spiegelman's Maus will find many rich thematic and visual comparisons to be made. This is a moving account not only of the anti-war effort in Australia, but also of the lasting effect of the Vietnam War on Australia's social, cultural and political history.
The tone is often serious – this is, after all, a story about war – but between sadder scenes there are many moments of endearing and irreverent humour. In my favourite, two confused police officers listen to a long and detailed description of a missing draft-dodger; they leave in disgust when they discover they've been sent to chase down a pet wombat. In another, a veteran praises the medic who saved his life with an emergency tracheotomy: 'A pretty gutsy move for a fridge salesman.'
Underground will appeal to anyone with an interest in social activism or Australian history. If you've ever felt hesitant to try a graphic novel, this beautifully crafted book is a welcoming and rewarding place to begin.
---
Ele Jenkins is a bookseller at Readings Carlton.
This item is in-stock at 6 shops and will ship in 3-4 days
Our stock data is updated periodically, and availability may change throughout the day for in-demand items. Please call the relevant shop for the most current stock information. Prices are subject to change without notice.