Changing Gear
Scot Gardner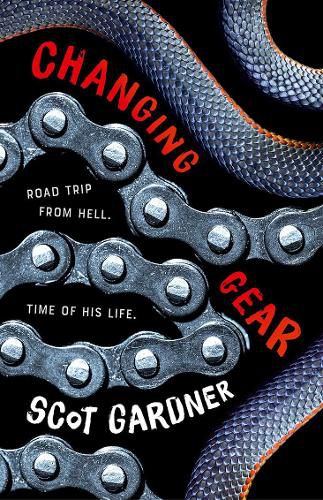 Changing Gear
Merrick Hilton's done a runner.
His folks think he's studying, but the real world has been calling for years and he can't ignore it any longer. A postie bike, a bedroll and a big sky - that's all he needs.
But there's no telling how he'll handle roadkill, stolen oranges and unexpected romance, let alone the rough stuff. And in the real world nothing goes entirely as planned. Thankfully Victor - the old bloke Merrick meets on the road - knows a thing or two about broken bike chains. And broken hearts.
Review
When Merrick's beloved grandad – the man who taught him how to surf, fart and be a man – passes away, it's like a rug has been pulled out from under Merrick's feet. In the six months that follow, Merrick, in his own words, feels like a passenger in his own skin, along for the ride but uninterested in the view. Eventually the emptiness inside becomes too much and Merrick needs to escape. He tells each of his divorced and remarried parents he's staying with the other, gets his bike and rides. He has a couple of hundred dollars, no phone and no destination, and not long into the trip he has no bike. This doesn't stop Merrick, and he joins a hiking traveller called Victor, a man of no fixed abode who spends his life walking and living off the milk of other's kindness.
As they walk, they talk and their conversations vary from folklore to humanity's place in the universe. Victor isn't afraid to shoot Merrick down when he's talking shit and Merrick isn't afraid to listen to the old man when he talks about things like the potential pitfalls of porn. Scot Gardner's descriptions of the Australian landscape, as expressed by Merrick, feel so real that at times you hardly dare to breathe, so overwhelming is the absurd beauty of it. It makes you want to laugh and cry and lie down in the dirt to become a part of it. There is something about the emptiness of the land that fills Merrick up, and as a reader you feel filled up too. Changing Gears aptly moves at walking pace; it gives you time to unpack everything as you read it, which is good, because it gives you a lot to think about. This is an excellent book for all young adults, but especially young men 14+.
---
Dani Solomon is the assistant manager at Readings Kids.
This item is in-stock at 2 shops and will ship in 3-4 days
Our stock data is updated periodically, and availability may change throughout the day for in-demand items. Please call the relevant shop for the most current stock information. Prices are subject to change without notice.