Take Three Girls
Cath Crowley,Simmone Howell,Fiona Wood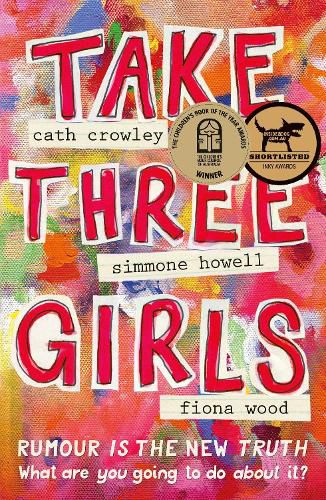 Take Three Girls
CBCA Book of the Year Award Winner (Older Readers) 2018
Kate, a quiet boarder, making some risky choices to pursue the experimental music she loves.
Clem, shrugging off her old swim-team persona, exploring her first sexual relationship, and trying to keep her annoying twin, Iris, at arm's length.
Ady, grappling with a chaotic family, and wondering who her real friends are; she's not the confident A-lister she appears to be.
When St Hilda's establishes a Year 10 Wellness Program in response to the era of cyber-bullying, the three girls are thrown together and an unlikely friendship is sparked. One thing they have in common: each is targeted by PSST, a site devoted to gossip and slander that must have a source within St Hilda's.
Who can you trust when rumour is the new truth?
Review
This raw and funny novel is the much-anticipated collaboration between three beloved Australian YA authors: Cath Crowley, Fiona Wood and Simmone Howell. The story follows three girls as they struggle to claim their own identities amid high school politics, romantic feelings and looming decisions about The Future. When they are grouped together for a wellness class at their elite high school, these outwardly different girls discover they have more in common than appears and form a meaningful bond.
Quiet, sensible Kate is tempted to throw her life plan out the window in order to pursue a career making experimental music. Passionate, fiery Clem feels consumed by her swim-team persona and longs for romance. And cool, cashed-up Ady wants to be more creative than her A-level status and current group of friends allow. I enjoyed how distinct these three voices were: we moved between their stories and perspectives. Readers who love books that feature a cast of characters and focus on female friendship – such as Jaclyn Moriarty's Finding Cassie Crazy or Siobhan Curham's The Moonlight Dreamers – will find much to love here.
Crowley, Wood and Howell have created an utterly authentic high school in St. Hilda's, from the coded language used by the students, to the ways that invisible social structures impose on their interactions with one another. The three narrators are also linked in part due to the existence of a website that shares gossip, true and not, about the students at a select group of private schools – including St. Hilda's. Each of our three girls is targeted by PSST (or Private Schools Secrets Tracker) in turn, and eventually they unite to bring it down. That this disgusting website feels so true-to-life is both a credit to the authors, and deeply depressing. Seeing Kate, Clem and Ady work to destroy it was a true joy.
---
Bronte Coates is the digital content coordinator and the Readings Prizes manager.
This item is in-stock at 3 shops and will ship in 3-4 days
Our stock data is updated periodically, and availability may change throughout the day for in-demand items. Please call the relevant shop for the most current stock information. Prices are subject to change without notice.