Stone Fruit
Lee Lai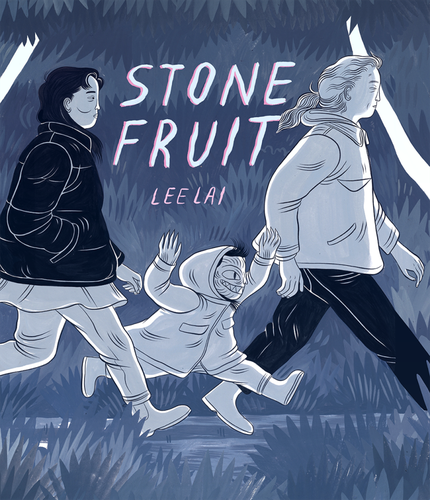 Stone Fruit
Bron and Ray are a queer couple who enjoy their role as the fun weirdo aunties for Ray's niece Nessie. Their bi-weekly playdates are little oases of wildness, joy, and ease in daily lives that ping-pong between familial tensions and isolation. As their emotional intimacy erodes, Ray and Bron turn to repair their broken family ties.
Taking a leap of faith, each opens up to their respective sisters and learns that they have more in common with their siblings than they ever knew. In time, the emptiness they feel after their break-up is supplanted with a deep sisterly love and understanding.
Review
Lee Lai's Stone Fruit finds queer couple Bron and Ray at a turning point in their relationship, but the Tuesdays they spend looking after Ray's six-year-old niece Nessie provide a cherished respite. On these days, the three can disappear into invented games and make-believe adventures, explore wild and sprawling parklands, and sing made-up songs. But when the time comes, always too soon, to drop Nessie home, Bron and Ray have to confront the limits of their ability to look after each other as a couple. When Bron withdraws, Ray feels rejected, and when Bron realises she's hurt Ray, Bron withdraws even further. In order to break this cycle, they must separate and first tend to the wounds inflicted by their families of origin to work out if they can make the leap of faith required to create their own version of family together, now.
Graphic novels, as a form, are so good at exploring the complexities and intimacy of domestic settings. I'm thinking of Alison Bechdel's Fun Home and Are You My Mother?, Alice Chipkin and Jessica Tavassoli's Eyes Too Dry, and even the poignant moments of stoner domesticity in Simon Hanselmann's Megahex series. With simple lines, a muted grey-blue palette, and spare, familiar dialogue, Lai quietly sets about the task of putting new modes of family to the page. It is done with a plain and gentle honesty that makes you to realise these expanding ideas of what a family can be are not actually new at all; we can all find ourselves in versions of family that go far beyond those we are born into.
Stone Fruit is beautiful, tender, sad and hopeful all at once. This is something so achingly lovely to sit down with, it's hard to think of it as anything other than a gift. How lucky we are to have Lee Lai's work in our lives and on our shelves.
---
Oliver Reeson works as a bookseller at Readings State Library.
This item is in-stock at 4 shops and will ship in 3-4 days
Our stock data is updated periodically, and availability may change throughout the day for in-demand items. Please call the relevant shop for the most current stock information. Prices are subject to change without notice.