Malketh and the Undead
Dave Maruszewski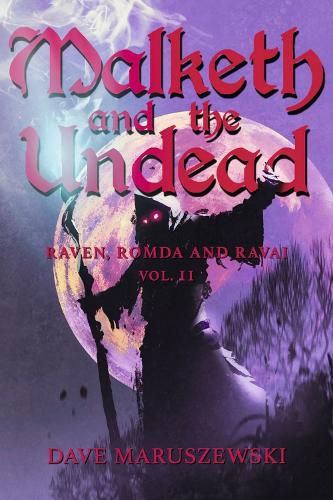 Malketh and the Undead
Raven, Romda and Ravai are settling into their new knightly duties well. With the Dark Beast defeated, their normal tasks almost seem mundane.
Amidst the boredom, Ravai asks, "Why does no one talk about villains from the past?"
Romda reasons, "What would be the point?"
There is a point. Even though villains may be defeated, they may still be around, waiting in the background ready to resurface once again. From the rubble and debris in which he was buried, Malketh has returned. Presumed dead, he now rises with a fury. His rage is fixed on what he believes belongs to him, the entire kingdom.
Malketh was not always like this. Once known as a mage of incredible knowledge and aptitude, he had admiration and opportunity. He started to investigate ancient and intentionally abandoned magic. That investigation became his downfall. When his mechanizations went wrong, Malketh was expelled from the kingdom.
Malketh has returned to the kingdom ... different. He is back with an entire army ... an entire army of undead soldiers! Raven, Romda and Ravai are thinking, maybe hoping, that their hardest task is behind them. However, they will be blindsided by this coming force for which they won't be ready. Their banter will soon be replaced by a call to action. And, action will come a-plenty.
How do you defeat an army with three people? Raven, Romda and Ravai will have to face this new challenge, and rise up like Malketh and the Undead.
A great story for the fantasy loving youth, this adventure will appeal to those who like action and humor in an easy reading environment. Following their adventures in The Dark Beast, this second book in the Raven, Romda and Ravai series raises the stakes in a continuing journey of the three.
This item is not currently in-stock. It can be ordered online and is expected to ship in approx 3 weeks
Our stock data is updated periodically, and availability may change throughout the day for in-demand items. Please call the relevant shop for the most current stock information. Prices are subject to change without notice.