The 13 Steps to Riches - Habitude Warrior Volume 7
Erik Swanson,Dan Clark,Jon Kovach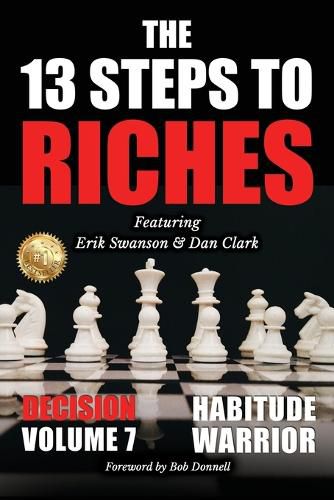 The 13 Steps to Riches - Habitude Warrior Volume 7
This title is printed to order. This book may have been self-published. If so, we cannot guarantee the quality of the content. In the main most books will have gone through the editing process however some may not. We therefore suggest that you be aware of this before ordering this book. If in doubt check either the author or publisher's details as we are unable to accept any returns unless they are faulty. Please contact us if you have any questions.
The 13 Steps to Riches - Volume 7: DECISION with Erik Swanson and Dan Clark
Are you a student of Napoleon Hill's classic from 1937 Think and Grow Rich? Has your life or business benefited from the timeless truths of this global classic? Experience these foundational principles of success that carry on from generation to generation.
Presenting: The 13 Steps to Riches by Habitude Warrior Volume 7 DECISION.
Based on the timeless truths of Napoleon Hill's classic Think and Grow Rich, the 13 steps come alive in this modern-day journey by each hand-selected author in this first-ever series.
The 13 Steps to Riches Volume 7 DECISION features celebrity authors Erik Swanson and Dan Clark with a special Foreword by Bob Donnell.
In this professionally published limited author series the entire 13-set series is being made available globally by Beyond Publishing, in all formats. Available in bookstores, libraries, and online stores everywhere.
Each volume features a Celebrity Author:
Volume 1: Denis Waitley - DESIRE
Volume 2: Sharon Lechter - FAITH
Volume 3: Jim Cathcart - AUTO SUGGESTION
Volume 4: Michael E. Gerber - SPECIALIZED KNOWLEDGE
Volume 5: Glenn Lundy - IMAGINATION
Volume 6: Marie Diamond - ORGANIZED PLANNING
Volume 7: Dan Clark - DECISION
Volume 8: Alec Stern - PERSISTENCE
Volume 9: Erik Swanson - MASTERMIND
Volume 10: Loral Langemeier - TRANSMUTATION
Volume 11: Doria Cordova - SUBCONSCIOUS MIND
Volume 12: John Assaraf - THE BRAIN
Volume 13: Kevin Harrington - SIXTH SENSE
In this seventh volume, each of the contributing authors share their experience and journey of success in business and life overcoming obstacles and triumphs while utilizing one of the steps to riches… DECISION. Surround yourself with the absolute best of the best and align yourself with high-performance individuals from around the world in the personal development space.
Authors include:
Erik Swanson, Dan Clark, Bob Donnell, Jon Kovach Jr., Amado Hernandez, Angelika Ullsperger, Anthony Criniti, Barry Bevier, Bonnie Lierse, Brian Schulman, Candace & David Rose, Corey Poirier, Deb Scott, Dori Ray, Elaine Sugimura, Elizabeth Walker, Erin Ley, Fatima Hurd, Frankie Fegurgur, Fred Moskowitz, Gina Bacalski, Griselda Beck, Jason Curtis, Jeffrey Levine, Lacey & Adam Platt, Louisa Jovanovich, Lynda Sunshine West, Maris Segal & Ken Ashby, Mel Mason, Miatta Hampton, Michael D. Butler, Michelle Cameron Coulter & Al Coulter, Michelle Mras, Mickey Stewart, Natalie Susi, Nita Patel, Olga Geidane, Paul Capozio, Paul Andres, Phillip McClure, Robyn Scott, Shannon Whittington, Soraiya Vasanji, Stacey Ross Cohen, Teresa Cundiff, Vera Thomas and Yuri Choi.
Habitude Warrior's The 13 Steps to Riches Volume 7 DECISION
releasing July 15, 2022 available for pre-order now. Grab all 13 to complete your library!
This item is not currently in-stock. It can be ordered online and is expected to ship in 7-14 days
Our stock data is updated periodically, and availability may change throughout the day for in-demand items. Please call the relevant shop for the most current stock information. Prices are subject to change without notice.