The Ratline
Philippe Sands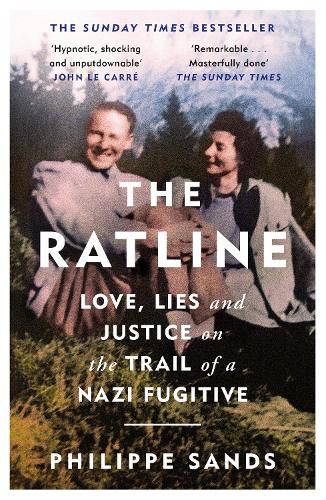 The Ratline
In this riveting real-life thriller, Philippe Sands offers a unique account of the daily life of senior Nazi SS Brigadefuhrer Otto Freiherr von Wachter and his wife, Charlotte.
Drawing on a remarkable archive of family letters and diaries, he unveils a fascinating insight into life before and during the war, as a fugitive on the run in the Alps and then in Rome, and into the Cold War. Eventually the door is unlocked to a mystery that haunts Wachter's youngest son, who continues to believe his father was a good man - what happened to Otto Wachter while he was preparing to travel to Argentina on the 'ratline', assisted by a Vatican bishop, and what was the explanation for his sudden and unexpected death?
Review
The good news for 2020 is that Philippe Sands has finally written a follow-up to his enormously successful Baillie Gifford Prizewinning book, East West Street! Didn't read that one? No problem. This coronavirus chaos will provide ample opportunity to read both! To recap, East West Street – part memoir, part history book – explored the lives of the originators of the concepts of genocide and crimes against humanity, Hersch Lauterpacht and Raphael Lemkin, interspersed with the fascinating story of Sands' maternal grandfather (a Polish Jew) during WWII.
This new book picks up a strand introduced by Sands in the earlier volume and also in his documentary film My Nazi Legacy, and delves into the life and terrible wartime career of Otto von Wachter, Nazi-appointed Governor of Galicia and Krakow. Responsible for the creation of the Krakow ghetto and the deaths of thousands of Jews (and other groups of opponents), Wachter's disappearance and re-emergence in Italy provides the basis for The Ratline.
Sands, with the assistance of von Wachter's son Horst (a steadfast denier of his father's Holocaust involvement), and a small team of researchers, piece together how von Wachter escaped and who helped him to do so. The title is taken from the name given to such underground networks (like ODESSA) who spirited numerous Nazi officials such as Adolf Eichmann (bearing new identities) to the safety of far-flung countries including Argentina.
An aspect of East West Street that made it such a brilliant read was the focus on Sands' own family history, as a descendant of Holocaust survivors. In this new book, his interactions with Horst von Wachter form part of The Ratline. Clearly, these men don't see eye to eye on several fronts, and their conversations, as related by Sands, are exasperating. The Ratline, while perhaps not as engrossing as its predecessor, is nevertheless a solid and fascinating read, rich in detail.
---
Julia Jackson is the assistant shop manager at Readings Carlton.
This item is in-stock at 4 shops and will ship in 3-4 days
Our stock data is updated periodically, and availability may change throughout the day for in-demand items. Please call the relevant shop for the most current stock information. Prices are subject to change without notice.