Metrics That Matter: Counting What's Really Important to College Students
Zachary Bleemer (Research Associate at the Center for Studies in Higher Education and PhD Candidate in Economics, UC Berkeley),Mukul Kumar (Presidential Postdoctoral Fellow in Urban Planning and Public Policy, UC Irvine),Aashish Mehta (Associate Professor of Global Studies, UC Santa Barbara),Chris Muellerleile (Lecturer in Geography, Swansea University),Christopher Newfield (Professor of Literature & American Studies, Independent Social Research Foundation and University of California-Santa Barbara)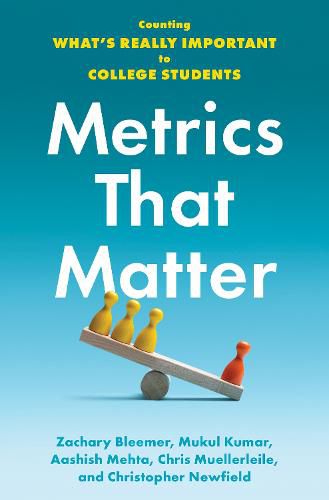 Metrics That Matter: Counting What's Really Important to College Students
Colleges sell themselves by the numbers-rankings, returns on investments, and top-ten lists-but these often mislead prospective students. What numbers should they really be paying attention to?
High school and college students are inundated by indicators and rankings supposedly designed to help them decide where to go to college and what to study once they arrive. In Metrics That Matter, coauthors Zachary Bleemer, Mukul Kumar, Aashish Mehta, Chris Muellerleile, and Christopher Newfield take a critical look at these metrics and find that many of the most popular ones are confusing, misleading, and-most importantly-easily replaceable by more helpful alternatives.
Metrics That Matter explores popular metrics used by future and current college students, with chapters focusing on colleges' return on investment, university rankings, average student debt, average wages by college major, and more. Written for students, their families, and the counselors who advise them, each chapter explains a common metric's fundamental flaws when used as a basis for making important educational decisions. The authors then draw on decades of scholarship from many academic fields to pair each metric with a concrete recommendation for alternative information, both qualitative and quantitative, that would be more useful and meaningful for students to consider. They emphasize that students should be thinking beyond solely using metrics when making college decisions-students should focus on their intellectual and academic education goals, not just vocational or monetary ones.
Students' reliance on certain metrics has skewed universities away from providing high-quality education and distorted the perception of higher education's purpose, overemphasizing private financial returns over the broader economic and social benefits of universities. This book aims to facilitate important student decisions while reorienting public perceptions of higher education's values and how universities should measure their own success.
This item is not currently in-stock. It can be ordered online and is expected to ship in 10-14 days
Our stock data is updated periodically, and availability may change throughout the day for in-demand items. Please call the relevant shop for the most current stock information. Prices are subject to change without notice.