Asterix Gift Edition: Albums 1-5: Asterix the Gaul, Asterix and the Golden Sickle, Asterix and the Goths, Asterix the Gladiator, Asterix and the Banquet
Rene Goscinny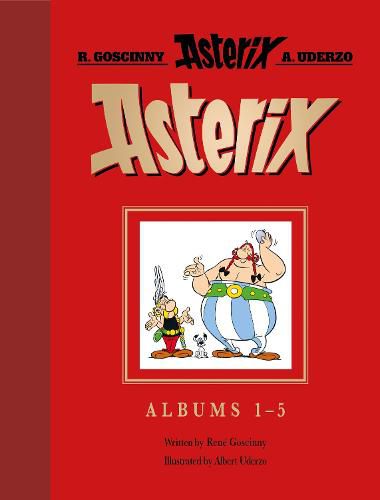 Asterix Gift Edition: Albums 1-5: Asterix the Gaul, Asterix and the Golden Sickle, Asterix and the Goths, Asterix the Gladiator, Asterix and the Banquet
In this special collectors' edition, the first five Asterix stories are collected in one fabulous luxury volume.
In ASTERIX THE GAUL, we join Asterix, Obleix and co as they try to defend one small village in Gaul from the mighty legionaires of Rome who surround them.
In ASTERIX AND THE GOLDEN SICKLE, disaster strikes the Gaulish village as Getafix the druid has broken his golden sickle which means no more magic potion.
In ASTERIX AND THE GOTHS, Getafix is kidnapped by the Goths so Asterix and Obelix have to ride to the rescue.
In ASTERIX THE GLADIATOR, Julius Caesar plans to throw the captured Cacofonix to the lions. Asterix and Obelix enlist as gladiators in order to rescue him, and teach their colleagues some interesting new tricks.
In ASTERIX AND THE BANQUET, the Romans build a barricade around the Gaulish village. But Asterix and Obelix break out and travel the entire country, collecting local specialities along the way.
This item is in-stock at 2 shops and will ship in 3-4 days
Our stock data is updated periodically, and availability may change throughout the day for in-demand items. Please call the relevant shop for the most current stock information. Prices are subject to change without notice.