The Hagley Wood Murder: Nazi Spies and Witchcraft in Wartime Britain
M J Trow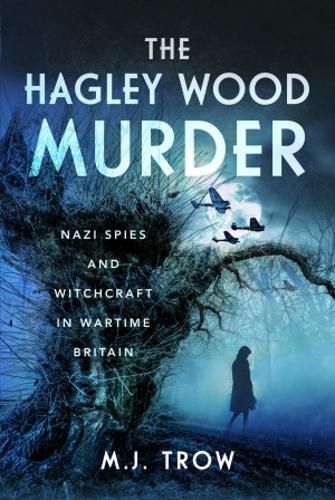 The Hagley Wood Murder: Nazi Spies and Witchcraft in Wartime Britain
Astonishingly, The Hagley Wood Murder is the first book solely on the subject (other than a selection of privately printed/self published offerings) ever written on this murder, which too place eighty years ago.
In April 1943, four teenaged boys discovered a corpse stuffed into the bole of a wych elm in a wood in the industrial Midlands. The body was merely bones and had been in the tree for up to two years. The pathologist determined that she was female, probably in her thirties, had given birth and was just under five feet tall. The cause of death was probably suffocation.
Six months after the discovery, mysterious messages began to appear on walls in the area, variants of Who Put Bella Down the Wych Elm - Hagley Wood'. And the name Bella has stuck ever since.
Local newspapers, then the national press, took up the story and ran with it, but not until 1968 was there a book on the case - Donald McCormick's Murder by Witchcraft - and that, like others that followed, tied Bella in with another supposedly occult murder, that of Charles Walton on Meon Hill in 1945.
Any unsolved murder brings out the oddballs - the police files, only recently released, are full of them - and the nonsense still continues. The online versions are woeful - inaccuracy piled on supposition, laced with fiction. It did not help that a professional occultist, Dr Margaret Murray, expressed her belief, as early as 1953, that witchcraft was involved in Bella's murder. And ill-informed nonsense has been cobbled together to prove' that Dr Murray was right.
McCormick's own involvement was in espionage and his book, slavishly copied by later privately printed efforts, have followed this tack too. It was wartime, so the anonymous woman in the wych elm had to be a spy, parachuted in by the Abwehr, the Nazi secret service.
The Hagley Wood Murder is the first book to unravel the fiction of McCormick and others. It names Bella and her probable murderer. And if the conclusion is less over-the-top than the fabrications referred to above, it is still an intriguing tale of the world's oldest profession and the world's oldest crime!
This item is not currently in-stock. It can be ordered online and is expected to ship in 10-14 days
Our stock data is updated periodically, and availability may change throughout the day for in-demand items. Please call the relevant shop for the most current stock information. Prices are subject to change without notice.