All's Well
Mona Awad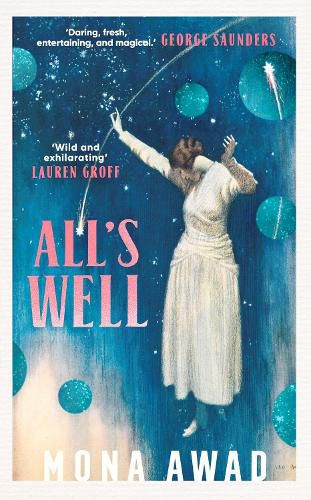 All's Well
Miranda Fitch's life is a waking nightmare. The accident that ended her burgeoning acting career left her with excruciating, chronic back pain, a failed marriage, and a deepening dependence on painkillers. And now she's on the verge of losing her job as a college theater director. Determined to put on Shakespeare's All's Well That Ends Well, the play that promised, and cost, her everything, she faces a mutinous cast hellbent on staging Macbeth instead. Miranda sees her chance at redemption slip through her fingers.
That's when she meets three strange benefactors who have an eerie knowledge of Miranda's past and a tantalizing promise for her future: one where the show goes on, her rebellious students get what's coming to them, and the invisible, doubted pain that's kept her from the spotlight is made known.
With prose Margaret Atwood has described as "no punches pulled, no hilarities dodged…genius," Mona Awad has concocted her most potent, subversive novel yet. All's Well is the story of a woman at her breaking point and a formidable, piercingly funny indictment of our collective refusal to witness and believe female pain.
Review
All's Well by Mona Awad is dark and sharp. It is, like its namesake Shakespeare play, a 'Problem' – a wondrous blur between comedy and tragedy that deals with the issue ofchronic pain and its 'treatment'.
We meet our protagonist, Miranda, a once promising actress, lying on her office floor in incredible pain. So much pain in fact that in the first third of the book she can barely move. Pain defines her. Yet no medical professional can find anything wrong. Miranda has been poked and pulled to no avail. Now she's a Theatre Professor at a small college who takes fistfuls of assorted painkillers, loses her train of thought and re-watches footage of herself on stage. She is hell-bent on staging Shakespeare's All's Well That Ends Well, even if it means mutiny from her students. Miranda, like the play's heroine, Helena, is a dark horse; she is determined, gritty and will not give up.
Awad draws on the reader's familiarity with Shakespeare to create a world where reality and magic live side by side. She plays with symbolism, teasing us as we reach into the dusty recesses of our minds (mine's dusty anyway) to piece it all together and give it reason. Because this is a complex and thorny story, it will have you searching for reason.
Even if you have no knowledge of Shakespeare, you are in good hands. Awad is a master of place and character (I don't remember the last time I had so many conflicting emotions about a protagonist). However, it's her brilliant turns of phrase that stunned me again and again. From the 'expressive' hair I could magically picture, to cutting lines like: 'And I suddenly felt like a loose woman who sat with her legs spread wide before him while he politely but firmly refused to f#$k me.' She had me laughing despite myself. All's Well is not a book for the faint hearted, but if you like the sound of the lines above, it is the book for you.
---
This item is not currently in-stock. It can be ordered online and is expected to ship in 10-14 days
Our stock data is updated periodically, and availability may change throughout the day for in-demand items. Please call the relevant shop for the most current stock information. Prices are subject to change without notice.