A Ripple in Time
Sandy Islands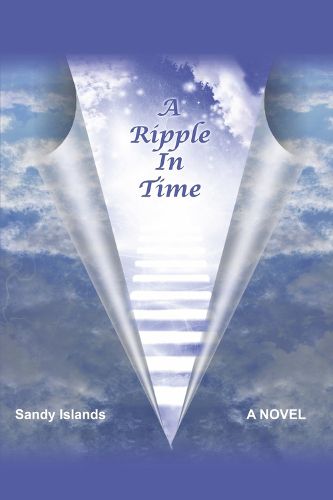 A Ripple in Time
Tara Benten leaves Key West for a ski vacation in Pagosa Springs Colorado. She's almost hit by an airport tram in Miami, but makes her flight to Durango where she's met by a handsome ski instructor, Alex Chapman. They spend a whirlwind week together and although Alex withholds intimacy, Tara falls in love with the kind, spiritual man that he is. On her last day, he shows her his Olympic memorabilia in Wolf Creek Lodge. Tara faints when she sees a plaque with Alex's birth and death dates 25 years before.
Tara wakes up in a Miami hospital and finds out she's been in a coma for 10 days. She was the woman hit by the tram. Recovering from knee and colon surgery, she's transferred to a rehab center in the middle Florida Keys. Her sister, Lily and best friend Rudi try to cheer her up. The psychologist insists that her coma relationship with Alex was merely a dream. She struggles and finds that hard to believe.
While unpacking after rehab, Tara discovers Alex's silver medal in the bottom of her suitcase that never left Miami. Alex gave it to her right before she fainted in the lodge. Researching, Tara finds that the medal is authentic and wants to return it. She goes to her therapist for a hypnosis session and Alex comes to her. He encourages her to return to Pagosa Springs. Tara also has a session with her best friend, Rudi's mother, Oya, who's a medium. Alex doesn't come, but her father who committed suicide the previous year does. Tara accepts that she had an experience with Alex in another dimension beyond the five senses.
Xander Chapman and his parents, Nick and Grace Chapman debate how Alex's medal could have disappeared from its case without tampering. Xander has conflicted with his father most of his life since he doesn't want to join the business, but is following his dream to be an artist. His latest work is a painting of his late uncle Alex Chapman.
Xander finds Tara up on the peak where Alex flew off the cliff and died. They go to the lodge for coffee and she sees the memorabilia wall knowing the missing medal is in her purse. She wants to return it, but doesn't want to be considered the thief. Xander and Tara realize they've been having the same dream of Alex's death. Tara is startled by the painting which piques Xander's curiosity. They spend time getting to know each other as their dreams reveal more details. They end up making love.
Grace Chapman, Xander's mother, is also startled by the painting and Xander realizes that he's actually Alex's biological son since Grace was living with Alex when he died. His brother, Nick stepped in to help in her time of grief. Grace invites Xander and Tara to dinner at their home. Tara is elated since this is where she and Alex spent most of their time together. Tara is caught by Nick, Grace and Xander, in a private room of Alex's memorabilia with the missing medal that she's trying to anonymously return. They think she's a thief stealing more. She returns home to Key West heartbroken. Xander has a successful art show. He receives an offer on his final painting of Tara's eyes. He's confused by a dream and goes for hypnosis where he finds out that he's also Alex reincarnated. This sheds light on a lot of unresolved issues. He calls the buyer for his painting who was a scientist that Tara had mentioned. Dr. White explains how adamantine particles could allow the medal to disappear and reappear like the Star Trek effect. Xander realizes Tara was telling the truth and flies to Key West to apologize and win her back. They both agree that she met Alex and he sent the medal to bring her to Pagosa Springs so she and Xander could fall in love. Tara forgives him and they fall asleep after making love. They both dream of a wedding on top of Wolf Creek Pass where they first met.
This item is not currently in-stock. It can be ordered online and is expected to ship in 5-9 days
Our stock data is updated periodically, and availability may change throughout the day for in-demand items. Please call the relevant shop for the most current stock information. Prices are subject to change without notice.