Water
John Boyne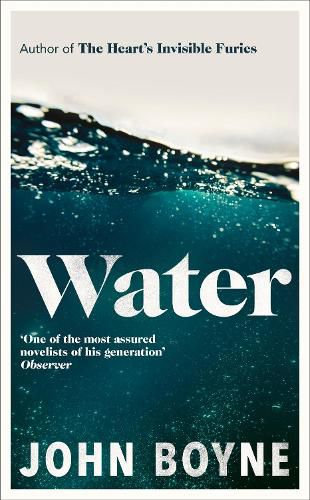 Water
The first thing Vanessa Carvin does when she arrives on the island is change her name. To the locals, she is Willow Hale, a solitary outsider escaping Dublin to live a hermetic existence in a small cottage, not a notorious woman on the run from her past.
But scandals follow like hunting dogs. And she has some questions of her own to answer. If her ex-husband is really the monster everyone says he is, then how complicit was she in his crimes?
Escaping her old life might seem like a good idea but the choices she has made throughout her marriage have consequences. Here, on the island, Vanessa must reflect on what she did - and did not do. Only then can she discover whether she is worthy of finding peace at all.
Review
This is the first of a projected group of books to be followed by Fire, Earth and Air. The narrator is Vanessa Carvin, a woman fleeing an unknown family tragedy or scandal in Dublin. She has come to a small island to escape and to find a way to continue: 'The first thing I do when I arrive on the island is change my name. I've been Vanessa Carvin for a long time, 28 years, but I was Vanessa Hale for 24 years before that.' Changing her name to Willow Hale (a nod to The Wicker Man, perhaps?), she slowly reveals to us the nature of the trauma and scandal she is trying to escape.
I had not read anything by John Boyne before, and I was impressed by his skill in bringing the threads of the story together. It is difficult when you are reading a book that you know has been written by a man but is narrated by a woman. I find that you look for 'tells' or incongruity. Generally, the narrator will at least once describe her breasts in forensic detail, and often other women characters' as well. The main reservation I had after reading this novel was that I found a curious lack of passion within the novel, unlike in the work of so many other contemporary Irish novelists – for instance that of Claire Keegan and Sebastian Barry, to name two. It somehow didn't feel like it was composed from the heart; rather, in the act of writing in the third person as a woman, Boyne didn't let the prose flow.
Boyne does write lyrically, however, and I'm probably intrigued enough to continue reading this series of books. I might even read through his backlist.
This item is in-stock at 8 shops and will ship in 3-4 days
Our stock data is updated periodically, and availability may change throughout the day for in-demand items. Please call the relevant shop for the most current stock information. Prices are subject to change without notice.