What You Are Looking for is in the Library
Michiko Aoyama, Alison Watts (trans.)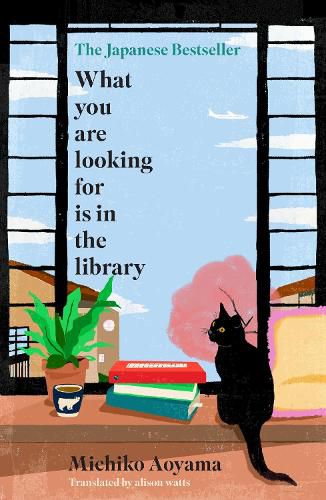 What You Are Looking for is in the Library
The Japanese bestselling novel shortlisted for the Japan booksellers' award.
What are you looking for?
So asks Tokyo's most enigmatic librarian, Sayuri Komachi. She is no ordinary librarian. Naturally, she has read every book on her shelf, but she also has the unique ability to read the souls of anyone who walks through her door. Sensing exactly what they're looking for in life, she provides just the book recommendation they never knew they needed to help them find it.
Every borrower in her library is at a different crossroads, from the restless retail assistant - can she ever get out of a dead-end job? - to the juggling new mother who dreams of becoming a magazine editor, and the meticulous accountant who yearns to own an antique store. The surprise book Komachi lends to each will change their lives for ever.
Which book will you recommend?
For fans of The Midnight Library and Before the Coffee Gets Cold, this charming Japanese novel shows how the perfect book recommendation can change a reader's life.
Review
Perfect for fans of Before the Coffee Gets Cold, this heartfelt, charming Japanese collection of stories focuses on a curious library and its even curiouser librarian, who, as well as having read every book on the shelves, has the ability to read the soul of every person who walks through the door. Through her opening question, 'What are you looking for?', we dive into the themes of family, love, taking risks, discovering one's purpose, and the magic of books.
A young sales assistant discovers a hidden passion for cooking after revisiting a long-forgotten children's book. An accountant yearns to follow his dream of opening an antique shop after reading a horticultural book on worms. A woman's struggle to come to terms with the changes of becoming a mother is given a new perspective after learning about astronomy. A manga artist, after reading a book on evolution, is inspired to climb out of the dark hole he's been stuck in for a long time that's kept him out of employment or education. And a retiree, who after dedicating his whole life to work has now lost his sense of purpose, is reminded of the importance of every day of life – whether young or old, employed or retired – through a poem about the ocean.
Although we become intimate with each character's thoughts, fears, and desires, we know almost nothing about the librarian, Ms Komachi. However, the enigma of the library echoes that of the act of reading itself. This is a love letter to books – these strange, inanimate objects that are bountiful with life, inspiration, knowledge, and love; these bindings of paper that bring us mystery and delight as to what might be written on the next page; to the books that stay with us, speak to us, and change us.
This item is in-stock at 8 shops and will ship in 3-4 days
Our stock data is updated periodically, and availability may change throughout the day for in-demand items. Please call the relevant shop for the most current stock information. Prices are subject to change without notice.