Ishiro Honda: A Life in Film, from Godzilla to Kurosawa
Steve Ryfle,Ed Godziszewski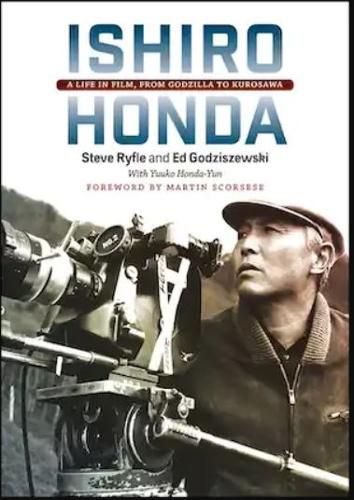 Ishiro Honda: A Life in Film, from Godzilla to Kurosawa
The first comprehensive biography of the director behind Godzilla and other Japanese sci-fi classics.
Ishiro Honda was arguably the most internationally successful Japanese director of his generation, with an unmatched succession of science fiction films that were commercial hits worldwide. From the atomic allegory of Godzilla and the beguiling charms of Mothra to the tragic mystery of Matango and the disaster and spectacle of Rodan, The Mysterians, King Kong vs. Godzilla, and many others, Honda's films reflected postwar Japan's real-life anxieties and incorporated fantastical special effects, a formula that appealed to audiences around the globe and created a popular culture phenomenon that spans generations. Now, in the first full account of this long overlooked director's life and career, authors Steve Ryfle and Ed Godziszewski shed new light on Honda's work and the experiences that shaped it-including his days as a reluctant Japanese soldier, witnessing the aftermath of Hiroshima, and his lifelong friendship with Akira Kurosawa. Ishiro Honda: A Life in Film, from Godzilla to Kurosawa features close analysis of Honda's films (including, for the first time, his rarely seen dramas, comedies, and war films) and draws on previously untapped documents and interviews to explore how creative, economic, and industrial factors impacted his career. Fans of Honda, Godzilla, and tokusatsu (special effects) film, and of Japanese film in general, will welcome this in-depth study of a highly influential director who occupies a uniquely important position in science fiction and fantasy cinema, as well as in world cinema.
Together, the authors have provided audio commentary tracks and produced supplemental material for numerous home video releases, including Ishiro Honda's Godzilla for the British Film Institute. They co-produced the documentary feature Bringing Godzilla Down to Size (2008).
This item is not currently in-stock. It can be ordered online and is expected to ship in approx 2 weeks
Our stock data is updated periodically, and availability may change throughout the day for in-demand items. Please call the relevant shop for the most current stock information. Prices are subject to change without notice.