Witness
Louise Milligan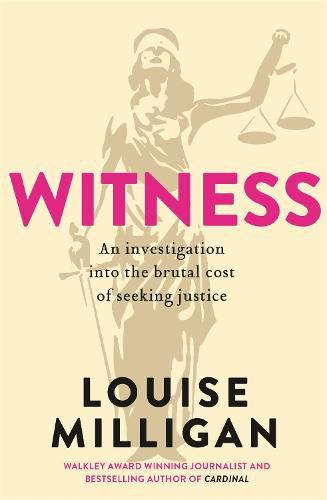 Witness
Winner of the Victorian Premier's Literary Awards 2021: People's Choice
Shortlisted for the 2021 Stella Prize
A masterful and deeply troubling expose, Witness is the culmination of almost five years' work for award-winning investigative journalist Louise Milligan.
Charting the experiences of those who have the courage to come forward and face their abusers in high-profile child abuse and sexual assault cases, Milligan was profoundly shocked by what she found.
During this time, the #MeToo movement changed the zeitgeist, but time and again during her investigations Milligan watched how witnesses were treated in the courtroom and listened to them afterwards as they relived the associated trauma. Then she was a witness herself in the trial of the decade, R v George Pell.
She interviews high-profile members of the legal profession, including judges and prosecutors. And she speaks to the defence lawyers who have worked in these cases, discovering what they really think about victims and the process, and the impact that this has on their own lives. Milligan also reveals never-before-published court transcripts, laying bare the flaws that are ignored, and a court system that can be sexist, unfeeling and weighted towards the rich and powerful.
Witness is a call for change. Milligan exposes the devastating reality of the Australian legal system where truth is never guaranteed and, for victims, justice is often elusive. And even when they get justice, the process is so bruising, they wish they had never tried.
Review
Louise Milligan won the Walkley Book Award for her first book, Cardinal, which forensically and compassionately detailed the stories of several of the victims who made allegations of sexual abuse against George Pell and others within the Catholic Church. In her work as a journalist covering the trials, she had become closely acquainted with several of the victims and she was called as a witness herself. Consequently, she suffered firsthand the brutality that is often experienced by complainants in the adversarial judicial system. Despite not being the victim in this case, despite legal training and years of being a court reporter who knew the system inside and out, Milligan found being cross-examined by the defence 'extremely traumatic' and one of the worst experiences of her life. Milligan is clear, however, that this is not her story, and that she wrote the book for all the victims who do not have anything like the privilege she enjoys.
Milligan also details the cases of Saxon Mullins, who was raped in an alleyway behind a Sydney nightclub in 2013, and Paris Street, a former student at St Kevin's College who in 2014 (at 14 years of age) was groomed by his athletics coach. Both victims experienced extreme trauma during the legal process, and both came up against impassable walls of power and privilege. Another fantastic Australian book on this subject is Bri Lee's Eggshell Skull, which details the author's own harrowing experience as a complainant in a sexual abuse case. Both Lee and Milligan have legal training (Lee is a qualified lawyer and Milligan studied law and was a court reporter), both are articulate and have found the energy to fight for change despite their own trauma. Unfortunately, most do not enjoy this rare freedom; the system is broken and books like these are vital to the cause of reformation.
---
Kara Nicholson is part of the online Readings team.
This item is in-stock at 2 shops and will ship in 3-4 days
Our stock data is updated periodically, and availability may change throughout the day for in-demand items. Please call the relevant shop for the most current stock information. Prices are subject to change without notice.