Thrice Told: The Psychological and Creative Evolution of the Artist Peter Trusler
Dr Sandra E.S Neil ,Dr Robert L.N Silverberg,Peter Trusler,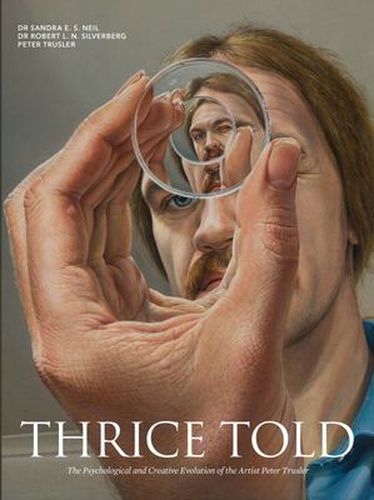 Thrice Told: The Psychological and Creative Evolution of the Artist Peter Trusler
Thrice Told is a book describing the lifelong artistic and psychological development of the renowned Australian artist, Peter Trusler. Known for his work on wildlife art, as well as for his scientifically rigorous reconstructions of prehistoric fauna, Peter also has a PhD in Palaeontology. His artwork is featured in numerous books and scientific publications, and several of Trusler's pieces are held in the National Library of Australia. His paintings have been featured on the cover of two issues of the Journal of Palaeontology (in 2009 and 2013). In 1993 his work appeared on the cover of Time Magazine, and he has produced three Australia Post stamp series. This book also uses his 'personal' paintings, some never exhibited publicly, to illustrate themes of his personal and artistic growth over the years.
This book has its origins in a series of conversations between the authors, meeting Peter's request that his quest for truthfulness be told. Instead of a simple narration or catalogue of the 'art' or the 'psychology' or the 'biography' of Peter Trusler, the authors have collaborated to produce a 'thrice-told' tale. Unlike the usual meaning of repetitive or tiresome (as derived from the original Shakespearean "twice-told tale" in "King John"), the intention is to elaborate, elucidate and validate.
The story of Peter's personal and artistic journey (which is ongoing) is told thematically instead of sequentially. Firstly, Peter's own words describe his artistic involvement with the themes we have drawn out. Secondly, his early psychological understanding and growth is commented upon by his first therapist, Dr Sandra Neil, as a clinical psychologist, and concerns his growing confidence with the artistic, feminine side of himself. Thirdly, the story is commented upon by Dr Robert Silverberg, his later therapist, a physician in psychological medicine, and focuses on his growth and comfort with the self-directed, action-orientated insightfulness that accepts and values the more masculine side of his own artistic journey. It is a single story told three different ways: 'thrice told'.
This product is not available.
Our stock data is updated periodically, and availability may change throughout the day for in-demand items. Please call the relevant shop for the most current stock information. Prices are subject to change without notice.