Bulk Nuts
Mandy Ord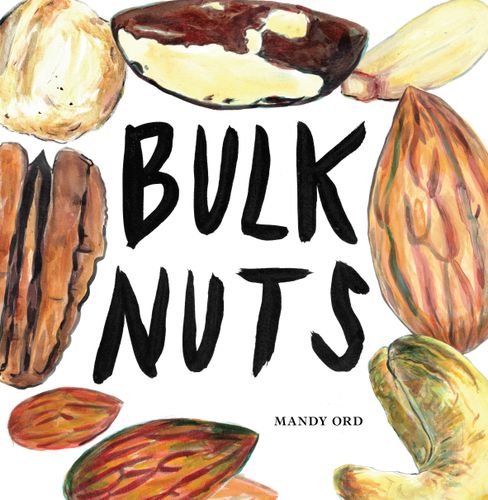 Bulk Nuts
Bulk Nuts is a trove of relaxedly funny and touching graphic stories, depicting preoccupations, incidents and mysteries that resonate with many of us.
From supermarkets, to dance floors, to bus rides and Melbourne nooks, Ord conveys tender and understated takeaways, compelling us to look closely at our own day-to-day realities.
A refuge from the flashy maelstrom of modern life, Bulk Nuts shows how odd and humble things can sustain us.
Review
The small moments in life – good, bad, confusing – are not always given the time they deserve. In Mandy Ord's illustrated graphic memoir, those moments are given their chance: explored, drawn, grown large. Ord's black-and-white illustrations are reminiscent of linocut, but with a visceral and dynamic flow and movement: they are always alive. Each panel is bold, striking and so well-composed that you could adorn your walls with them.
The moments Ord chooses to share in these 27 comics are often surreal, and so too is her art. A mother quiets her yowling children with a jarringly unexpected comment that abruptly finishes the story; unhappy people distort on the page, taking up as much space as they do in reality. Stories overlap between past memories and present journeys. Much, and sometimes not much, happens.
Ord's comic-vérité work has had a following for years, and there is change in this, visually and conceptually. Then and now, however, Ord is an observer who notices the worthwhile things and makes them alive on the page. There is the joy of dancing over Zoom, or sitting at the front of an overnight bus and watching the landscape pass by; the unnerving panic of getting lost on a dark road, or meeting strange men in car parks; the quiet sadness of a lost favourite knife, or a sister living far away.
These are the moments in time and life that can seem small, but leave a mark, whether good, or bad, or just there, part of the landscape of life itself.
This item is in-stock at 6 shops and will ship in 3-4 days
Our stock data is updated periodically, and availability may change throughout the day for in-demand items. Please call the relevant shop for the most current stock information. Prices are subject to change without notice.