On Being Unreasonable: Breaking the Rules and Making Things Better
Kirsty Sedgman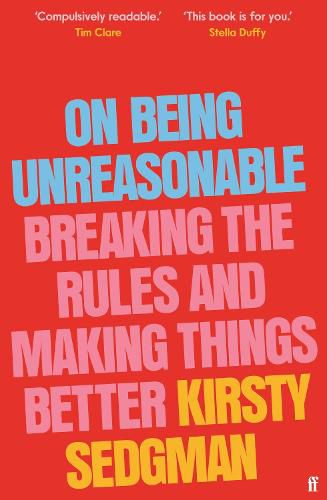 On Being Unreasonable: Breaking the Rules and Making Things Better
Manners, order and respect… these are all ideals we subscribe to. In opposed positions, we ought to be able to 'agree to disagree'. Today's world is built from structures of standards and reason, but it is imperative to ask who constructed these norms, and why. We are more divided than ever before - along lines of race, gender, class, disability-and it's time to question who benefits the most. What if our propensity to measure human behaviour against rules and reason is actually more problematic than it might seem?
Kirsty Sedgman shows how power dynamics and the social biases involved have resulted in a wide acceptance of what people should and shouldn't do, but they create discriminatory realities and amount to a societal facade that is dangerous for genuine social progress. From taking the knee to breastfeeding in public, from neighbourhood vigilantism to the Colston Four - and exploring ideas around ethics, justice, society, and equality along the way - Sedgman explores notions of civility throughout history up to now.
On Being Unreasonable mounts a vital and spirited defence of why and how being unreasonable can help improve the world. It examines and parses the pros and cons of our rules around reason, but leaves us with the rousing question: What if behaving unreasonably at times might be the best way to bring about meaningful change that is long overdue?
This item is in-stock at 5 shops and will ship in 3-4 days
Our stock data is updated periodically, and availability may change throughout the day for in-demand items. Please call the relevant shop for the most current stock information. Prices are subject to change without notice.