Old God's Time
Sebastian Barry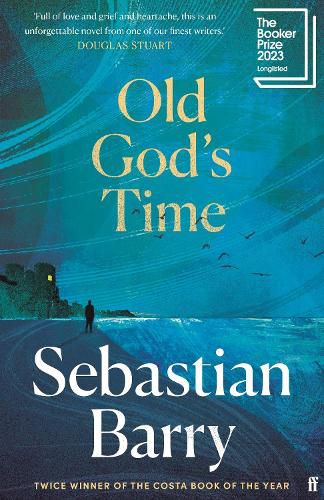 Old God's Time
There were no saints in any era, Tom knew, just good men and bad, and sometimes both in the one bottle.
Retired policeman Tom Kettle is enjoying the quiet of his new home, a lean to annexed to a white Victorian Castle in Dalkey overlooking the sea. For months he has barely seen a soul, but his peace is interrupted when two former colleagues turn up at his door to ask questions about a decades-old case. A traumatic case which Tom never quite came to terms with.
His peace is further disturbed by a young mother and family who move in next door, a woman on the run from her own troubles. And what of Tom's family, his wife June and their two children?
A beautiful, haunting novel, in which nothing is not quite what it seems, Old God's Time is about what we live through, what we live with, and what will survive of us.
Review
Tom Kettle is an Irish detective who has recently retired to a home overlooking the Irish sea. It's unclear at first how long he has been leading this solitary existence, but his life is thrown into turmoil when two younger detectives from his former squad appear at his door late at night. They question him about a case that he worked on that he wants nothing to do with. He offers them a meal and a bed and, in the morning, they are gone.
Initially, the time in which this novel is set is unclear – it could be any time in the last 50 years, but it slowly becomes apparent that it is sometime in the late 1990s. Tom is mourning the loss of his wife and family and coming to terms with his solitary existence. He is drawn into helping the detectives investigate two priests. This novel is informed with an ice-cold fury about the tremendous stain that the Catholic Church has poisoned Ireland with. Written in a beautiful and poetic style, the details reveal themselves almost out of the mist. The generations of trauma and horror that the church has tormented the Irish with makes you wonder why the Irish fought the English but not that institution. As one of the detectives tells another, 'But the priests have brought this on themselves. They've cooked the devil's stew for themselves. And now they must sup.'
Sebastian Barry has twice been shortlisted for the Booker Prize and twice won the Costa Book of the Year, and after reading this I can see why. An absolutely beautiful and moving Irish book in a year where Claire Keegan and The Banshees of Inisherin have already staked out a large chunk of our cultural space.
This item is in-stock at 5 shops and will ship in 3-4 days
Our stock data is updated periodically, and availability may change throughout the day for in-demand items. Please call the relevant shop for the most current stock information. Prices are subject to change without notice.