Red Notice: A True Story of Corruption, Murder and how I became Putin's no. 1 enemy
Bill Browder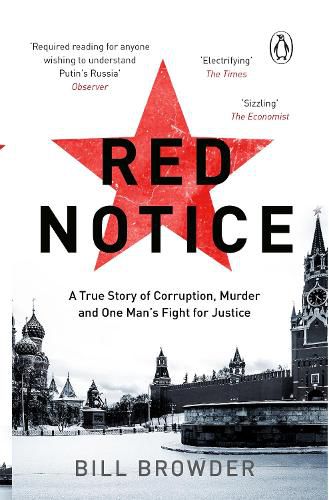 Red Notice: A True Story of Corruption, Murder and how I became Putin's no. 1 enemy
November 2009. An emaciated young lawyer, Sergei Magnitsky, is led to a freezing isolation cell in a Moscow prison, handcuffed to a bed rail, and beaten to death by eight police officers. His crime? To testify against the Russian Interior Ministry officials who were involved in a conspiracy to steal $230 million of taxes paid to the state by one of the world's most successful hedge funds. Magnitsky's brutal killing has remained uninvestigated and unpunished to this day. His farcical posthumous show-trial brought Putin's regime to a new low in the eyes of the international community.
Red Notice is a searing expose of the wholesale whitewash by Russian authorities of Magnitsky's imprisonment and murder, slicing deep into the shadowy heart of the Kremlin to uncover its sordid truths. Bill Browder - the hedge fund manager who employed Magnitsky - takes us on his explosive journey from the heady world of finance in New York and London in the 1990s, through his battles with ruthless oligarchs in the turbulent landscape of post-Soviet Union Moscow, to his expulsion from Russia on Putin's orders.
Browder's graphic portrait of the Russian government as a criminal enterprise wielding all the power of a sovereign state illuminates his personal transformation from financier to human rights activist, campaigning for justice for his late lawyer and friend. With fraud, bribery, corruption and torture exposed at every turn, Red Notice is a shocking but true political roller-coaster that plays out in the highest echelons of Western power.
Review
Brigid Mullane
Bill Browder comes from a family with an impressive communist pedigree. His grandfather, Earl Browder, was the leader of the Communist Party USA and his parents are well-respected left-wing academics. Browder feels himself to be out of place in his family. Neither as academic as his brother nor as esteemed as his parents, he rebels in the only way he knows how – by embracing capitalism. Red Notice follows Browder from his year in boarding school, through university and into the world of business. Browder becomes fascinated with the opportunities for investment that present themselves with the privatisation of Eastern Europe after the fall of the Berlin Wall. This leads him to Russia, where he founds Hermitage Capital Management and becomes one of the largest foreign investors in Russia.
But Browder is soon to learn that the playing field in Russia is far from fair, and that corruption hinders progress at every turn. He begins to work to expose fraud and the punishment is swift and frightening. After conducting business in Russia for 10 years, he is detained on a return trip from London and deported, declared a threat to national security and forbidden to return. And there are consequences for angering the Russian oligarchs that are worse than deportation, something that the death of Browder's lawyer, Sergei Magnitsky, tragically demonstrates. Red Notice gives an interesting insight into the day-to-day corruption that plagues modern Russia, stifles its growth – both economically and culturally – and threatens its citizens. There have been several books concerning modern Russia in the last few years – Masha Gessen's The Man Without a Face is a spectacular book for those looking for further reading. Browder's perspective is an interesting one, as he brings his very American sensibilities to combat what is a uniquely Russian problem.
---
Brigid Mullane is a freelance reviewer.
This item is in-stock at 8 shops and will ship in 3-4 days
Our stock data is updated periodically, and availability may change throughout the day for in-demand items. Please call the relevant shop for the most current stock information. Prices are subject to change without notice.