I Have Some Questions For You
Rebecca Makkai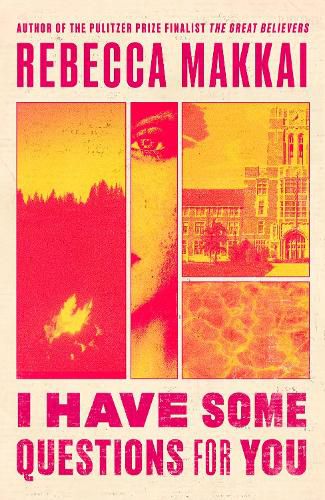 I Have Some Questions For You
The riveting new novel from the author of The Great Believers, finalist for the Pulitzer Prize and the National Book Award

A successful film professor and podcaster, Bodie Kane is content to forget her past: the family tragedy that marred her adolescence, her four largely miserable years at a New Hampshire boarding school, and the 1995 murder of a classmate, Thalia Keith. Though the circumstances surrounding Thalia's death and the conviction of the school's athletics coach, Omar Evans, are the subject of intense fascination online, Bodie prefers-needs-to let sleeping dogs lie.

But when The Granby School invites her back to teach a two-week course, Bodie finds herself inexorably drawn to the case and its increasingly apparent flaws. In their rush to convict Omar, did the school and the police overlook other suspects? Is the real killer still out there? As she falls down the very rabbit hole she was so determined to avoid, Bodie begins to wonder if she wasn't as much of an outsider at Granby as she'd thought-if, perhaps, back in 1995, she knew something that might have held the key to solving the case.

One of the most acclaimed contemporary American writers, Rebecca Makkai reinvents herself with each of her brilliant novels. Both a transfixing mystery and a deeply felt examination of one woman's reckoning with her past, I Have Some Questions for You is her finest achievement yet.
Review
In 1995, a girl was murdered on the grounds of her elite private boarding school in New Hampshire, and Bodie Kane suspects the wrong man went to prison. Bodie is the host of a successful podcast about the lives of Hollywood starlets, both adored and wrongfully maligned. When she is invited back to her alma mater to teach, her fixation on the murder of her roommate Thalia Keith grows. She assigns her new students with a simple task: produce a three-episode podcast on a significant moment in the school's history. In doing so, she has planted the seed and piqued the interest of true-crime critical student Britt, who takes on Thalia's murder. Bodie is heedful that she might be using Britt as a vehicle through which she can reopen the closed case. One that is free from the scrutiny of both her proximity to the murder, and her growing public image. But Bodie is withholding secrets about what she saw, what she knew, and what she has come to realise about Thalia's murder.
Pulitzer Prize finalist Rebecca Makkai's latest novel is a timely investigation into the second lives of tragic events. What happens when someone's murder is taken into fiction, to be pulled apart and prodded at by curious strangers? Just as time has distorted Bodie's memory of Thalia's murder, it has changed the lens through which she understands the structures it occurred within. Here she undergoes the maddening experience of awareness that has arrived too late. Distrusting her own version of events, Bodie becomes preoccupied with how it looks to others. I Have Some Questions for You asks us to consider our fascination with true crime, as much as it feeds it. Makkai's high school campus novel is most remarkable in its ability to toe this line.
This item is in-stock at 7 shops and will ship in 3-4 days
Our stock data is updated periodically, and availability may change throughout the day for in-demand items. Please call the relevant shop for the most current stock information. Prices are subject to change without notice.