Fable: Works for Solo Harp by Australian Women Composers
Jacinta Dennett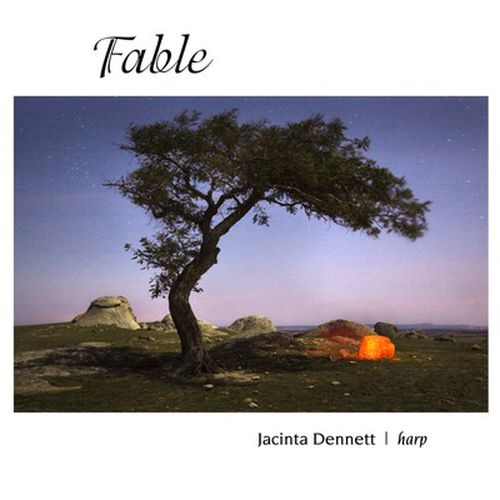 Fable: Works for Solo Harp by Australian Women Composers
The breadth of this remarkable collection of solo harp music encompasses sixty-six years of original Australian composition, performed by Jacinta Dennett, featuring Australian women composers and showcasing the harp's unique sonic and expressive qualities as a solo instrument.
The stylistic diversity among this cohort of composers is illuminated, advocating the extraordinary capacity of the harp to sound and express the richness of their differences.
About the artist:
From the outset of her creative education, Jacinta Dennett has intrinsically entwined movement and music. The responsive nature of the harp and its unique capacity to continue resounding after it has been played have led Jacinta to research the essence of gesture in harp playing and develop her idiosyncratic performance style.
Review
One thing I learnt during my many years of music study was that the harp is a much harder instrument to play than it seems. Not only does each string need to be individually tuned, there are pedals to contend with and changing key is not as easy as you might think. References to the harp date back to ancient times, and it continues to be a popular instrument today, not just as an orchestral instrument but as a solo voice.
As I listened to Fable, I recognised a couple of tracks from my many years of listening to ABC Classic, but there was also a spiciness to some of the repertoire that I found myself enjoying. Wondering what was giving these works an extra kick, I discovered that all the pieces on the album are by Australian composers – not only that, they are also all by women. A couple of months ago I reviewed the latest Women of Note album, a series that also features the music of Australian women composers, and it was fantastic. This delightful album is an excellent companion to that established series.
Included on the album is the ever-popular Sonata for Harp by Peggy Glanville-Hicks, whose works are still undervalued in my opinion. But we also have works from lesser-known composers such as Helen Gifford and Alicia Grant. Grant's three pieces for harp are a particularly delightful find; 'Sea Breezes', 'Footprints in the Sand' and 'Ocean Floor' are evocative of their names and the sweetness in their soft moments makes you focus your ears to hear every last drop of Dennett's harp. 'Fable' by Helen Gifford lends its name to the whole album and it's a brave start. With discordant chords littered throughout, it feels almost angry, but a controlled anger reminiscent of when someone is not allowed to express their emotions.
I've listened to this album many times while writing this review, but each time I get something new – just the way it should be.
---
This item is in-stock at 2 shops and will ship in 3-4 days
Our stock data is updated periodically, and availability may change throughout the day for in-demand items. Please call the relevant shop for the most current stock information. Prices are subject to change without notice.