The Story Of My Book: Pureheart
Cassandra Golds won the Victorian Premier's Literary Award for
---
Pureheart began with a picture: of a girl or young woman gazing out from an upstairs window in an old building at night and seeing a boy waiting outside next to the streetlight, looking up at her. The picture had a film noir kind of feeling; there was something solemn and bleak and desperate and intense about it. But it also reminded me a little of Romeo and Juliet.
I knew what building she was gazing out from. It was my grandmother's block of holiday flats in the upper blue mountains of New South Wales, built by her father (and my great-grandfather) in 1936. And I love that building — in fact it is my favourite place in the world! It is strange and meandering and wonderful, and I spent many happy times there as a child. Best of all, it is still there! (And so is my grandmother, who is almost 103, although she doesn't live there any more.) But the girl, and the boy, were of course fictitious, and the story of Deirdre and Galahad grew from there.
Some time before this picture came into my head, I had read a wonderful blog post by Ursula Dubosarsky on the novel They Shoot Horses, Don't They? by Horace McCoy. As a result, I became very interested in books like that one and The Grifters by Jim Thompson: the "hard-boiled" genre. They are bleak and spare and dramatically told, and they tend towards the sensational (they are sometimes called "pulp" or "dime store" fiction) but they are also curiously spiritual and philosophical.
I admire that kind of writing, perhaps because it's so different from my own! And I've always been fascinated by the connection between hard-boiled crime fiction, film noir (you know all those famous old Humphrey Bogart films of the 30s and 40s?) and the stories of King Arthur and his knights (a lot of people say that Humphrey Bogart characters are like knights errant, and his ladies, the virtuous ones and the wicked ones, are like Arthurian damsels). And Arthurian legend is right up my alley.
So, slowly, I began to get the idea of retelling the story of Sir Galahad and the Holy Grail as a kind of modern day film noir-ish thriller — with a bit of Wuthering Heights thrown in.
But Pureheart is also a ghost story, with just a dash of horror. Above all, it is a romance. Partly it is an ode to that wonderful building, my grandmother's block of flats. But mostly, it is about the love between Galahad and Deirdre.
In the legend, it is Sir Galahad who finds the Holy Grail — the great quest of all King Arthur's knights — because he is the only one whose heart is pure. That's why I called my book Pureheart. Like The Three Loves of Persimmon (though I didn't know this while I was writing it) it was a kind of love letter to a person I hadn't met yet — and the amazing thing was that, a few months after Persimmon was published, I met him! (And when Persimmon won the Victorian Premier's Literary Award, that's exactly what I said in my acceptance speech.)
Pureheart was also conceived before this life-turning-upside-down event (so life-turning-upside-down that I moved from Sydney to Melbourne and started hanging out at Readings) — but fortunately it was still being written when it happened. It is the first book of mine to be published after I met the love of my life.
All my books — Clair-de-Lune, The Museum of Mary Child, The Three Loves of Persimmon, even The Mostly True Story of Matthew and Trim — are about love. But perhaps Pureheart most of all. And when at last it was published, I had the tremendous joy of having the perfect person to dedicate it to, as you will see if you look at the book. For he is a pure heart indeed.
---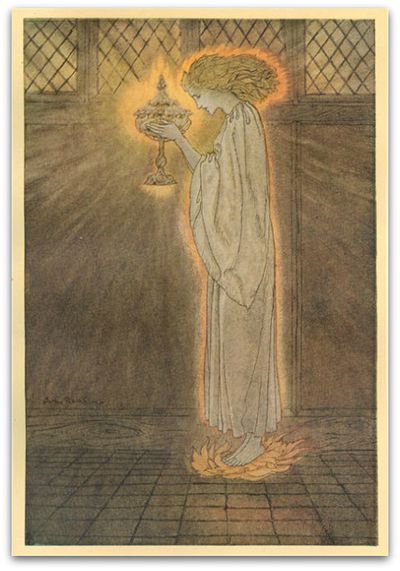 ---
Arthur Rackham's illustration of The Grail Maiden, 'How at the Castle of Corbin a maiden bare in the Sangreal and foretold the achievements of Galahad', which was an inspiration for the heroine of
---
Cassandra can be found at