A spotlight on The F Team by Rawah Arja
The F Team is one of the six books shortlisted for this year's Readings Young Adult Book Prize.
---
The F Team follows Punchbowl High student Tariq Nader as he's teamed up in a rugby competition with his sworn enemies from Cronulla High. Our judges described it as 'heartwarming and hilarious.'
We asked author Rawah Arja about her inspiration, her hopes for her debut novel, the publishing process and, most importantly, her very extensive dream casting for a screen adaptation.
---
What was the initial inspiration for this story?
Ultimately, The F Team was born out of feeling lost, helpless and worst of all, feeling as though I didn't matter, particularly being a Muslim woman wearing a hijab. I never want anyone to feel like that, let alone teenagers who are from minorities and are at a critical stage in their lives trying to find themselves. I want readers to feel inspired that no matter how hard things get, they have the ability to turn their lives around and make something for themselves, even if the whole world is standing in their way. The F Team is for anyone who felt second best, for anyone who was ignored, and most importantly for anyone who wants to make the world a better place.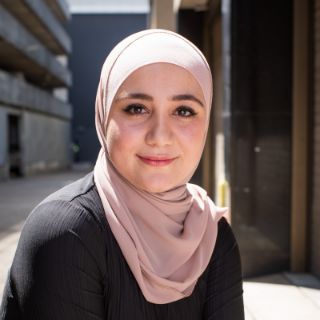 What do you hope readers will take away from your book?
I want readers to reach out to people and cultures that are different to their own. Trust me, if you know a Lebanese family, go introduce yourself. Either one of two things will happen: you'll get a free lunch or you'll be invited to the next Arab wedding, or both! I want readers to laugh and cry and be angry all at the same time. I want to challenge people's perceptions and bias of communities different to their own and hopefully end up feeling hopeful that the world isn't as dark and scary as they'd like you to believe.
Who would be your dream cast for a screen adaptation?
Oooh, my favourite question. Here is my elaborate plan for an all-Aussie cast for The F Team screen adaptation.
Director: Russell Crowe.
Cast:
Chris Hemsworth: Mr Archie, the new Punchbowl Boys principal.

Nicole Kidman: Helen Furner, Aaron's mother.

Tariq's Arab family: Actually, played by my own family.

Hugh Jackman: We'll find him a role because he's my favourite.

The F Team: A casting will take place at Punchbowl Boys and Cronulla to pick Tariq, Ibby, Huss, PJ, Aaron, Riley, Lee and Matt.
I will also have to put some of my cousins in there because there's no way they'd ever forgive me, knowing Chris Hemsworth was in the neighbourhood. Oh and one last thing, the movie will definitely take place in Punchbowl with probably the biggest barbecue ever filmed!
How did you go about getting published?
A roller coaster to say the least. There were high and lows, meeting some incredible people along the way. I was rejected for years but I never gave up. I remember writing for hours, long into the nights and every now then I would look out my window and pray for some miracle to happen and that someone would believe in me and my story. That miracle came in the form of Giramondo Publishing.
---
You can read more about the Readings Young Adult Book Prize 2021 shortlist here. We'll be announcing the winner at a very special evening event on Thursday 15 July 2021 at Readings State Library.