My Blood's Country: In the Footsteps of Judith Wright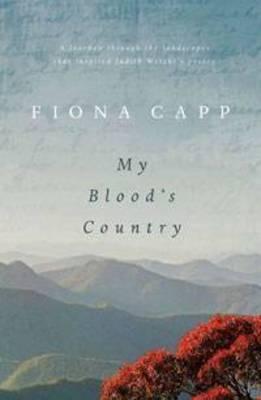 My Blood's Country: In the Footsteps of Judith Wright
'Sometimes in life you get lucky. Someone of rare vision and remarkable gifts crosses your path .' Fiona Capp, novelist and author of the acclaimed memoir That Oceanic Feeling, was 17 years old when she first met Judith Wright. Everything that followed from this encounter led her, 30 years later, on a journey through the landscapes that made Wright one of Australia's greatest poets and environmental visionaries. Capp follows in Wright's footsteps through the high tableland of New England, the rainforests of Queensland and the austere bushland outside Canberra, uncovering the land out of which the poetry sprang. Her travels also take the reader through the life of the poet - the early tragedy that shaped her childhood, her complex relationship with her family, and the two great loves of her life - while exploring the well-springs of Wright's art and activism. Judith Wright sensed in her bones that something had gone profoundly wrong with our attitude to the earth, long before the term 'conservationist' entered public discourse. In this intimate and moving memoir, Fiona Capp shows how the 'country that built my heart' - as Wright called it - became part of the collective consciousness of the nation; how her poetry created a place that belongs to all of us.
Review
by Samantha Ellen-Bound, CAE Book Groups
A long-time admirer of poet Judith Wright's work, Fiona Capp wrote My Blood's Country with the intention of tracing the landscape that served as inspiration for most of Wright's poetry, but also Wright's experience of it; how it infused the way she saw the world and the people living in it.
In a sort of pilgrimage, Capp physically travels all over Australia, retracing Wright's steps from her childhood home in New England, to the mountains and rainforests of Queensland, to Wright's final resting place in Canberra. Through Capp's anecdotes, research and own encounters, we get an insight into the landscape that shaped both Wright's poetry and her political activism. Capp writes that her intention was not to worship, but to learn. Her growing frustration with her inability to do so is apparent when she finds so much of the land changed or destroyed from what Wright knew and wrote about – perhaps a perfect analogy to the very ideas Wright was trying to communicate. Capp writes with a high reverence for both her literary hero and the landscapes she visits. There is a lovely, nostalgic feel for place and the environment. The insights into Wright's beliefs, loves and family relationships are touching without ever falling into sentimentality.
Fans of Wright's work will find My Blood's Country satisfying and fascinating, but it is also a great read for anyone with a passing interest in Australia's landscape and the woman who gave it a voice.
This item is not currently in-stock, but it's available to order online.
We are currently experiencing delays in processing and delivering online orders. Click here for more information.
Please note, our stock data is updated overnight, and availability may change throughout the day. Prices are subject to change without notice.