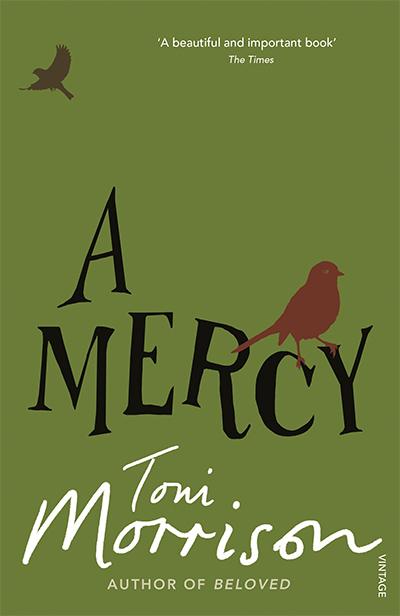 A Mercy
On the day that Jacob, an Anglo-Dutch trader and adventurer, agrees to accept a slave in lieu of payment of a debt from a plantation owner, little Florens' life changes.
With her intelligence and passion for wearing the cast-off shoes of her mistress Florens has never blended into the background and now at the age of eight she is taken from her family to begin a new life. She ends up part of Jacob's household, along with his wife Rebekka, Lina their Native American servant and the strange and melancholy Sorrow who was rescued from a shipwreck.
Together these women face the trials of their harsh environment as Jacob attempts to carve out a place for himself in the brutal landscape of the north of America in the seventeenth century.
Review
by Sanchia Hovey, freelance reviewer
A Mercy is Nobel laureate Toni Morrison's ninth novel and the first since her Pulitzer Prize winning Beloved to depict American slavery. Don't be fooled by the size – this slim, powerful novel will leave you reeling. A Mercy transports you into the pristine wilderness of the Americas in the 1680s, when slavery was in its infancy and the country pockmarked by struggling communities harbouring cruel religious beliefs and brutal intolerance. Race hatred has not yet taken hold, but the seeds have been sown.
Morrison vividly realises this age through the voice of a compassionate white farmer, a young black girl who he accepts as part payment for a bad debt, a misfit orphan, a Native American woman and a devastated mother forced to give up her child in order to save her. Unlike Beloved, this novel is not about race but instead explores an emerging culture of servitude, oppression, power and ownership; themes that resonate well into our own twenty-first century. If you have not yet read Toni Morrison, I urge you to read this exceptional novel – and then continue on with her masterpiece Beloved.
This item is in-stock and will ship in 2-3 business days
Please note, our stock data is updated overnight, and availability may change throughout the day. Prices are subject to change without notice.