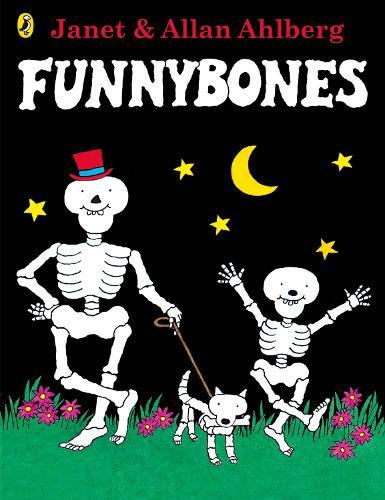 Funnybones
This is the first book in the
Funnybones
series and introduces the skeletons - a big skeleton, a little skeleton and a dog skeleton.
They live in a dark dark cellar of a dark dark house on a dark dark hill and so the word repetition continues through this lighthearted story for early readers.
The skeletons venture out of their cellar one night to find someone to scare, but everyone is in bed so they amuse themselves by scaring each other and playing with the skeleton animals that live in the zoo.
Review
There was a dark, dark house and in the dark, dark house lived some skeletons. A big skeleton and a little skeleton head out one night to walk the dog skeleton – and to frighten people. First they go to the park to play. The dog skeleton runs into a tree and ends up a pile of bones. As the skeletons figure out how to put the dog bones together correctly, they sing the song 'Dem Bones' and we are treated to an iconic and hilarious anatomy lesson. Afterwards, the trio head to the zoo to look at the animal skeletons, and then it is finally time to frighten people!
It's very easy to understand why this Ahlberg classic has become lodged into the brains of so many readers since it was first published in 1980. Designed with comic-style panels, the images are bold and simple yet exquisitely executed. The colours and the use of black are particularly striking, and speech bubbles encourage everyone reading along to join in.
The Ahlbergs are the best to ever do it, and Funnybones perfectly encapsulates the joy of a fright and a rowdy excursion with friends. It may be Halloween this month, but Funnybones is forever!
Perfect to share with readers ages 3+.
---
Kim Gruschow is from Readings St Kilda.
This item is in-stock and will ship in 2-3 business days
Please note, our stock data is updated overnight, and availability may change throughout the day. Prices are subject to change without notice.