Making Australian History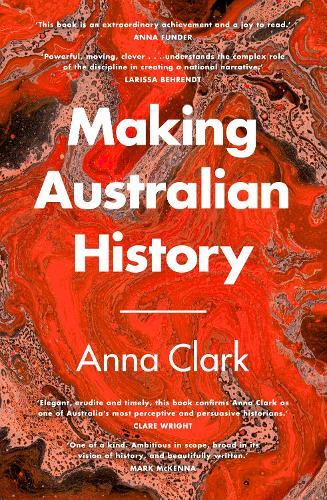 Making Australian History
A few years ago Anna Clark saw a series of paintings on a sandstone cliff face in the Northern Territory. There were characteristic crosshatched images of fat barramundi and turtles, as well as sprayed handprints and several human figures with spears. Next to them was a long gun, painted with white ochre, an unmistakable image of the colonisers. Was this an Indigenous rendering of contact? A work of history?
Each piece of history has a message and context that depends on who wrote it and when. Australian history has swirled and contorted over the years: the history wars have embroiled historians, politicians and public commentators alike, while debates over historical fiction have been as divisive. History isn't just about understanding what happened and why. It also reflects the persuasions, politics and prejudices of its authors. Each iteration of Australia's national story reveals not only the past in question, but also the guiding concerns and perceptions of each generation of history makers.
Making Australian History
is bold and inclusive: it catalogues and contextualises changing readings of the past, it examines the increasingly problematic role of historians as national storytellers, and it incorporates the stories of people.
Review
It is generally proposed that history is written by the victors. Anna Clark, however, may argue that it is written by historians – which makes it no less biased. Australian history is famously contested, from the 'history wars' to the backlash and debate around Dark Emu to arguments in Parliament about high school curricula. This begs the question: how is Australian history constructed and why do these debates exist? Dr Clark, granddaughter of Manning Clark and internationally recognised scholar of Australian history in her own right, argues that history- making, despite its best efforts, is not a value-free accounting of what has come before. Each piece of Australian history-making has a context and contributes towards a specific idea of Australian identity.
Making Australian History, her comprehensive study of the historiography of Australia, is a surprisingly compelling and easy read – even for a non-Australian such as myself. Broadly chronological, each section follows a theme such as 'Contact', 'Memory', 'Protest', and 'Country'. Be forewarned that Clark sits firmly left of centre so you may find yourself nodding along in agreement or fiercely challenged by Clark's own reading of history (for the record, I was the former). Some may argue that history and politics should not mix, but this book makes it clear that such a position is untenable: historians are engaged, and have been engaged historically, with the process of nation and identity building – a politically charged task.
This is an important look at the work historians do and the changing and conflicting readings of the past. It provides insight not only into our past but into our present and even our future. What we remember, record and pass down shapes how we view ourselves, our country and our place in the world.
---
Tristen Brudy is a bookseller at Readings Carlton.
This item is in-stock and will ship in 2-3 business days
Please note, our stock data is updated overnight, and availability may change throughout the day. Prices are subject to change without notice.