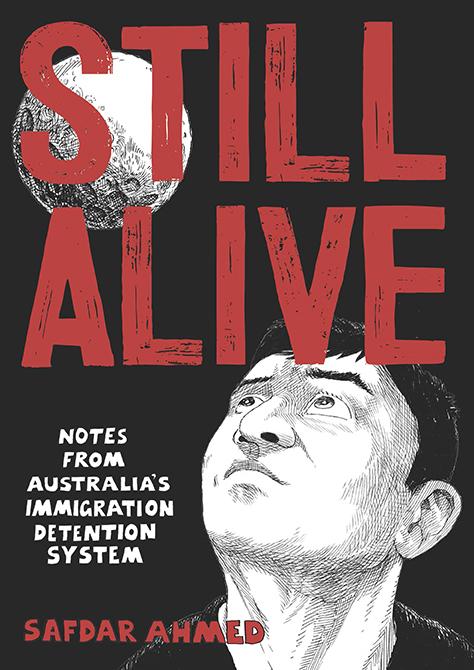 Still Alive
In early 2011, Safdar Ahmed visited Sydney's Villawood Immigration Detention Centre for the first time. He brought pencils and sketchbooks into the centre and started drawing with the people detained there. Their stories are told in this book.
Interweaving journalism, history and autobiography, Still Alive is an intensely personal indictment of Australia's refugee detention policies and procedures. It is also a searching reflection on the redemptive power of art. And death metal.
Review
It is difficult to find the right words when you want to recommend a book that made you feel sick with rage. So I will start by telling you how important it is that this book exists, in spite of all the odds stacked against it, and against the people whose lives it describes. I want you to know how profound an experience this graphic novel offers its readers.
Safdar Ahmed is a Sydney-based artist and Walkley Award winner who works with Villawood detainees as part of the Refugee Art Project. In Still Alive he writes about the strength of art in addressing trauma and he collaborates with refugees to tell their stories. Much of the imagery used throughout the book is drawn by the refugees themselves, resulting in a powerful collaboration between artists.
Part of what this graphic novel restores is the humanity and agency of its storytellers. Even in the midst of a harrowing boat journey, Hadi recalls his joy at seeing real dolphins. Amir recounts the terror and danger of detention on Manus Island, before explaining how he and other detainees clubbed together to donate medical equipment to Lorengau hospital after their release. Despite the trauma these refugees have experienced, Still Alive refuses to let its subjects be reduced to pure victimhood. As Ahmed points out: 'There are no "good" or "bad" refugees – only people who deserve basic rights.'
Alongside these personal testimonies, Still Alive also covers the decades-long history of Australian immigration policy clearly and concisely, explaining how we arrived at a system of indefinite and offshore detention, and why Australia's actions constitute an abuse of human rights. Read it, feel it as deeply as the content demands – and then share it with anyone who still needs convincing that immigration detention must end.
---
Ele Jenkins is a bookseller at Readings Carlton.
This item is in-stock and will ship in 2-3 business days
Please note, our stock data is updated overnight, and availability may change throughout the day. Prices are subject to change without notice.