Can the Real JR Stand Up Please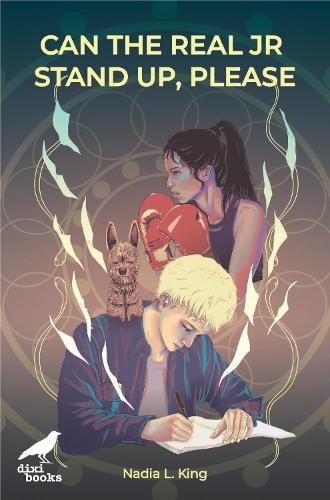 Can the Real JR Stand Up Please
When Jake Rollins isn't worrying about his dad going ape-shit, he's busy creating out-of- this-world manga and hanging out with his best mate.
Jake and his mum spend their lives dodging Jake's dad's fists, but it's the last year of high school and Jake has the perfect plan to escape home. All he has to do is nab a scholarship to Tokyo where he'll learn how to be a professional manga artist. But before then, Jake has to navigate his final year of high school, and keep himself, his mum and their dog alive.
Baba Ami may look like an ordinary Australian Terrier but she's more like Jake's spiritual guide. She's got tons of wisdom, plus she talks, but the only person who can hear her is Jake. She's not the only surprising thing about Jake's life - his anime hero, Takehiko sometimes inexplicably comes to life. He's Jake's role model for friendship, bravery and being true to yourself. And let's face it, Jake needs all the help he can get when he ends up complicating his life by kissing his best friend, Phee and getting in with Clay Perez, the local graffiti artist who is always in trouble with the police.
Jake's life takes a turn for the worst when he's arrested after Clay Perez dobs him in. When his dad throws him out of the house, he ends up being a homeless teenager with nowhere to go. Thank goodness for best friends. Life gets even more complicated when Jake's portrait of his dad ends up in the local paper. It will be a miracle if they don't all end up dead like Jake's little sister, Katie.
This is a story of survival, resurgence, and what it means to be bigger than where you come from. With themes of friendship, coming-of-age, family abuse, survival, creativity, courage and diversity,
Can the Real JR Stand Up, Please?
is a warm-hearted hopeful story about being true to yourself and learning to be brave.
This item is in-stock and will ship in 2-3 business days
Please note, our stock data is updated overnight, and availability may change throughout the day. Prices are subject to change without notice.