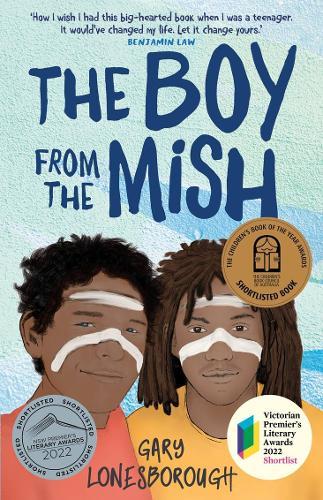 The Boy from the Mish
Shortlisted for the Readings Young Adult Book Prize 2021
'I don't paint so much anymore,' I say, looking to my feet.
'Oh. Well, I got a boy who needs to do some art. You can help him out,' Aunty Pam says, like I have no say in the matter, like she didn't hear what I just said about not painting so much anymore. 'Jackson, this is Tomas. He's living with me for a little while.'
It's a hot summer, and life's going all right for Jackson and his family on the Mish. It's almost Christmas, school's out, and he's hanging with his mates, teasing the visiting tourists, avoiding the racist boys in town. Just like every year, Jackson's Aunty and annoying little cousins visit from the city - but this time a mysterious boy with a troubled past comes with them…
As their friendship evolves, Jackson must confront the changing shapes of his relationships with his friends, family and community. And he must face his darkest secret - a secret he thought he'd locked away for good.
Compelling, honest and beautifully written, The Boy from the Mish is about first love, identity, and the superpower of self-belief.
'A deftly woven tale that is both a raw, unflinching look at the experience of growing up gay and Aboriginal, and a sweet, truly endearing love story you just can't turn away from. This is Own Voices storytelling at its best.' - HOLDEN SHEPPARD
Review
Gary Lonesborough's debut YA novel is an extraordinary coming-of-age story of first love, community and discovering who you are. Seventeen-year-old Jackson lives with his family on the Mish in rural NSW. It's summer, and Jackson's aunty and cousins are visiting from Sydney. This year, they've brought Tomas with them, and Jackson is stuck sharing his room and showing Tomas around.
Jackson has just broken up with his girlfriend, and he's struggling with his conflicted feelings and confronting parts of himself he has always kept secret. Tomas has just gotten out of a juvenile detention centre, and he's trying to figure out where he might fit in the world and how to avoid any more trouble. They're both a little lost, unsure of their futures and who they want to be. As the two grow closer, feelings surface and a relationship forms between them.
Lonesborough is a young Yuin man, and The Boy from the Mish is an Own-Voices story that explores identity, masculinity, racism, belonging, queerness, art and more. Authentic, funny and rich in themes to discuss, this book should be on the radar of both general YA readers and every English teacher and school librarian.
At its heart, this novel is a gorgeous and compelling love story between two Aboriginal boys. It's the kind of gentle, tender romance that will make your heart swell, and leave you thinking about Jackson and Tomas long after you've finished. For ages 14+.
---
Nina Kenwood is the marketing manager for Readings.
This item is in-stock and will ship in 2-3 business days
Please note, our stock data is updated overnight, and availability may change throughout the day. Prices are subject to change without notice.