The Wolves of Greycoat Hall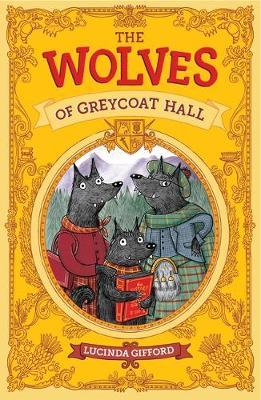 The Wolves of Greycoat Hall
A family of wolves leaves their mansion in Moravia, returns to their Scottish homeland where they fight for their right to live among society and save the castle that has been in their family for generations from a crooked developer.
Boris Greycoat is a friendly young wolf who likes meeting people and trying new foods. His father Randall Greycoat is becoming an expert in speaking French and playing table tennis. Boris's mother, Leonora Greycoat, likes to practise her warm, reassuring smiles. Wolves need to look reassuring if they are to flourish in society.
Excited to hear the news that wolves are to be reintroduced to Scotland, Boris Greycoat and his parents, Randall and Leonora Greycoat embark on a journey back to their ancestral lands. However, it's more difficult for wolves to travel than one might think, and it seems that Scotland may not be prepared for sophisticated wolves like the Greycoats.
A deliciously funny tale, with equally amusing illustrations, about being judged for what, rather than who you are.
Review
When the Scottish Conservation Society announces plans to reintroduce wolves into the wild, the Greycoat family of Morovia is soon boarding the Trans-Bohemia Express for the land of shortbread and lochs. The Greycoats – Boris and his parents Randall and Leonora – are wolves, after all, and travel is their true passion. Well, travel and good food.
The Wolves of Greycoat Hall swings with a breezy, impish humour that will have readers aged 7–10 turning the pages with a smile. Checking into the Highland Hotel (carpet and curtains all in matching tartan), young Boris learns of plans to demolish the historic Drommuir Castle and replace it with cheap apartments. Local wildlife is threatened, too. But what is the true history of the castle? And what possible connection could it have to the Greycoat family?
This first Greycoat family adventure is a total charmer and I can't wait to share the fun with young readers and their families.
---
Mike Shuttleworth is a children's and YA specialist at Readings Hawthorn.
This item is in-stock and will ship in 2-3 business days
Please note, our stock data is updated overnight, and availability may change throughout the day. Prices are subject to change without notice.