How to Talk About Climate Change in a Way That Makes a Difference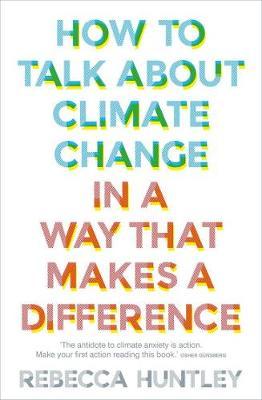 How to Talk About Climate Change in a Way That Makes a Difference
Why is it so hard to talk about climate change?
While scientists double down on the shocking figures, we still find ourselves unable to discuss climate change meaningfully among friends and neighbours - or even to grapple with it ourselves.
The key to progress on climate change is in the psychology of human attitudes and our ability to change. Whether you're already alarmed and engaged with the issue, concerned but disengaged, a passive skeptic or an active denier, understanding our emotional reactions to climate change - why it makes us anxious, fearful, angry or detached - is critical to coping on an individual level and convincing each other to act.
This book is about understanding why people who aren't like you feel the way they do and learning to talk to them effectively. What we need are thousands - millions - of everyday conversations about the climate to enlarge the ranks of the concerned, engage the disengaged and persuade the cautious of the need for action.
Review
Rebecca Huntley is one of Australia's most experienced and respected social researchers. As she quips, 'I make a living out of understanding why people think the way they do.' Here, in her sixth book, Huntley uses a tried and tested framework to examine our attitudes to the climate crisis facing us all.
Firstly, she tells us why the issue matters to her, follows with why it matters to us and then she examines why we feel like we do. Each chapter represents an emotion; think of the list of capital vices and you get the picture. Perhaps, for example, you feel guilt and that drives the way you behave in regard to our climate crisis. On the hand, perhaps you are frightened, or angry, or maybe you simply feel an enormous level of despair when discussing what we have done to our glorious planet. It's possible you don't even believe it is happening. By researching and considering why climate change conversations create such mixed emotions, Huntley allows a range of voices to emerge. And she finds these emotional responses are helpful to the discourse because they can identify why we feel the way we do. This knowledge, in turn, can assist with driving behavioural change. It can help us believe in hope. It certainly makes this book a completely refreshing and optimistic read.
Huntley dedicates a chapter towards the end of the book to the notion of love and why that emotion is our tool going forward. (Of course, she also includes practical suggestions, hints, and a checklist as well.) Basically, by opening ourselves up to love, we open up our ability to share the load. The title of Huntley's work could easily be How to Talk About Anything in a Way that Makes a Difference. Irrespective of the title, her words will be a balm for your anxiety. It is research that could and should significantly contribute to our dialogue on how to achieve the next sensible step forward in the climate crisis. And it is championing a methodology that is kind and meaningful. Read it to feel inspired. It truly helps
---
Chris Gordon is the programming and events manager for Readings.
This item is in-stock and will ship in 2-3 business days
Please note, our stock data is updated overnight, and availability may change throughout the day. Prices are subject to change without notice.