George Colman - Broad Grins: 9781787806306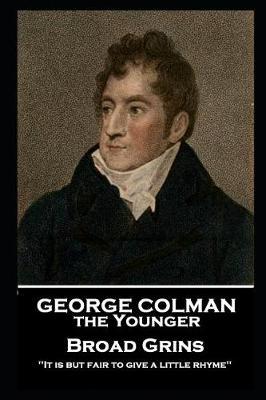 George Colman - Broad Grins: 9781787806306
George Colman the Younger was born on 21st October 1762, the son of George Colman the Elder, a noted and successful playwright and translator of Terence and Plautus among others.Colman was educated at Westminster School before going on to University at Christ Church, Oxford, and then King's College, University of Aberdeen, before finally proceeding to Lincoln's Inn, London to become a student in Law. In 1782 his first play 'The Female Dramatist' was premiered at his father's Haymarket theatre. It appears that as early as 1784, Colman had entered into a runaway marriage with an actress, Clara Morris, to whose brother David Morris, he eventually sold his inherited share in the Haymarket theatre. After her death he wrote many of the leading parts in his plays for Mrs Gibbs (nee Logan), whom he was said to have secretly married after the death of his first wife. His father, George Colman the Elder, was by now in failing health and was obliged to relinquish to his son the management of the Haymarket theatre in 1789, at a yearly salary of GBP600. Although Colman sought to emulate and build on the success of his father he was not quite of the same caliber. On the death of his father in 1794, the Haymarket patent was continued to the son; but difficulties arose in his path, he was involved in litigation with Thomas Harris, and was unable to pay the running expenses of the performances at the Haymarket. In dire circumstances Colman was forced to seek sanctuary within the Rules of the King's Bench Prison. Although he would continue to manage the affairs of the theatre he would reside here for several years. Released at last through the kindness of George IV, who had appointed him exon. of the Yeomen of the Guard, a dignity that Colman soon liquidated to the highest bidder. In 1824 he was made examiner of plays by the Duke of Montrose, then the Lord Chamberlain. This granting of office caused widespread controversy amongst his peers who were appalled at his severe censorship and illiberal views, especially as his own works were often condemned as indecent. Apparently at times even the words 'heaven' and 'angel' were deemed to be offensive by him. George Colman the Younger held this office until his death in Brompton, London on 17th October 1836 at the age of 73. He was buried alongside his father in Kensington Church.
This item is not currently in-stock, but it's available to order online.
Please note, our stock data is updated overnight, and availability may change throughout the day. Prices are subject to change without notice.