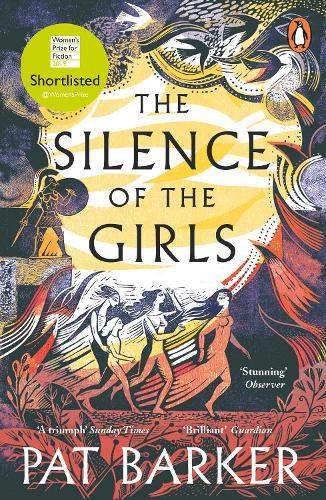 The Silence of the Girls
Shortlisted for the 2019 Women's Prize for Fiction
Queen Briseis has been stolen from her conquered homeland and given as a concubine to a foreign warrior. The warrior is Achilles- famed hero, loathed enemy, ruthless butcher, darkly troubled spirit. Briseis's fate is now indivisibly entwined with his.
No one knows it yet, but there are just ten weeks to go until the Fall of Troy, the end of this long and bitter war.
This is the start of The Iliad- the most famous war story ever told. The next ten weeks will be a story of male power, male ego, male violence. But what of the women? The thousands of female slaves in the soldiers' camp - in the laundry, at the loom, laying out the dead? Briseis is one of their number - and she will be our witness to history.
Review
Pat Barker won the Booker Prize in 1995 for Ghost Road, the third book in her trilogy about the horrors of the First World War. In The Silence of the Girls, Barker reaches much further back into history to bring us the story of Briseis: a princess enslaved by the Greeks and awarded to Achilles in the lead up to the fall of Troy. It's a tale most commonly presented as an epic love story (in The Iliad Achilles brings the entire Trojan campaign to a grinding halt when he is forced to surrender Briseis to Agamemnon); but Barker strips the romance from the narrative, reminding readers that from Briseis's perspective it is a story of slavery, rape, and murder.
The Silence of the Girls presents the women of The Iliad, the sisters, wives, mothers and daughters whose war is waged on rough pallets and in grimy tents. Once their cities fall they become no more than spoils of war; they are treated like objects to be used and traded among men, and have no power but that of prayer, patience, and obedience. In The Silence of the Girls, Briseis is given a formidable strength, intelligence, and consuming female rage that's glaringly absent from other retellings. Barker's blunt and straightforward writing style eliminates the distance and pomposity that often plagues adaptations of epic stories. Like the best kind of historical fiction, The Silence of the Girls rips the story of the Trojan War right out of ancient Greece and into the modern era.
---
Lian Hingee is the digital marketing manager for Readings.
This item is in-stock and will ship in 2-3 business days
Please note, our stock data is updated overnight, and availability may change throughout the day. Prices are subject to change without notice.