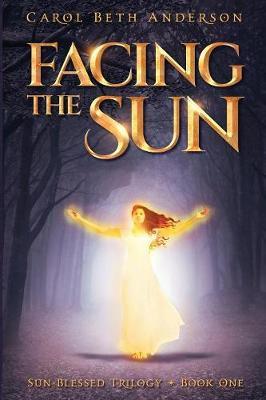 Facing the Sun
The glow itself seemed to be alive, breathing, spreading under the baby's skin. One question filled my mind: Who is this child? Tavi Malin is born facing the sun, filled with greater magic than any other sun-blessed child. At age fourteen, Tavi's magic awakens, but her uncontrolled power nearly destroys her school, leaving her confidence as shaken as her surroundings. Tavi and her friends train to use their gifts, unaware of the threat developing in a distant city. Dissidents have banded together, and they're killing to attain gray magic, an ominous new force that breaks the rules of ordinary magic. But to seize true power, the Grays must grow their ranks–and Tavi is a prize worth pursuing. In a fight where confidence is as crucial as strength, even extraordinary gifts aren't sufficient. If Tavi is to prevail against the Grays, she must find a courage that goes deeper than magic itself. You'll love the entrancing characters, relationships, and magic in this all-new fantasy world. Pick up Facing the Sun now! Here's what early readers are saying: The magic system is beautiful and completely original! -Stephanie, Goodreads reviewer This was a cut above anything I've read recently. Facing the Sun is a coming-of-age story with real depth. -Katy Haye, PaisleyPiranha blog I fell in love with the characters (especially Tavi and Tullen). -Sarah Lentz, author of Before the Wedding: A Lunch Lady Cozy Mystery The Sun-Blessed Trilogy was one of the most exciting, breathtaking, and heart-stopping series I've ever read! -Madysun Waldrop Face it! You won't be able to put these books down. -Brenda Elliott Author Interview: What makes this new world unique? In the Sun-Blessed Trilogy, the magical system is tied to childbirth. I love the miracle of birth, and tying magic to such an incredible event felt natural and appropriate. Some of the heroes in this series are midwives, who pass magic on to sun-blessed children and later train these same children to use their gifts. What audiences is the series appropriate for? This trilogy is appropriate for teen and adult audiences. There is no cursing, explicit sexual content, or gory violence. (The series contains childbirth scenes, details of puberty, non-gory murder scenes, and non-explicit references to adultery). I wanted to write a series my own kids could read, and I'm happy to provide an exciting, quality story that a wide variety of ages will enjoy.
This item is not currently in-stock, but it's available to order online.
Please note, our stock data is updated overnight, and availability may change throughout the day. Prices are subject to change without notice.