Rosie Revere and the Raucous Riveters (The Questioneers Book 1)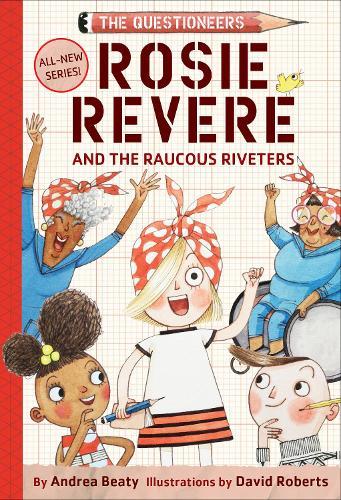 Rosie Revere and the Raucous Riveters (The Questioneers Book 1)
Rosie Revere is no stranger to flops and fails, kerfuffles and catastrophes. After all, she's an engineer, and engineering is all about perseverance! But, sometimes, Rosie has a really important project to tackle-one that feels much bigger than her. This is one of those times.
Rosie's beloved Aunt Rose and her pals make up the Raucous Riveters-a gaggle of fun-loving gals who built airplanes together during World War II. When one of their own, June, is injured and can't paint in the town's annual mural competition, it's up to Rosie to design a painting contraption to assist. All of the riveters are counting on her.
After a flop… and another flop… and another flop… Rosie starts to lose hope. But, thanks to some help from her classmates Iggy Peck and Ada Twist (and one neighbor who may not be as mysterious as she seems…), Rosie creates the Paintapoolza! June gets to paint a mural and, together, the riveters and their new young friends rediscover the meaning of Home.
Review
Andrea Beaty and David Roberts – the minds behind such wonderful picture books as Rosie Revere, Engineer; Iggy Peck, Architect; and Ada Twist, Scientist – now bring us this delightful chapter book for young readers. It's the story of a little engineer, Rosie, and her latest challenging project – to create a device so that a friend, whose arms are in casts, is able to paint. The catch is there's a deadline of two days! Championed by her creative family and supported by her buddies Iggy and Ada, Rosie is encouraged in her mission.
Just like any budding scientist, Rosie faces failure but she persists; brainstorming and recycling old ideas, developing and evaluating designs at each step until she finally succeeds!
This first book in a series is a must for the budding entrepreneur; short chapters with plentiful illustrations and an appendix with useful information guarantee engagement. Celebrating camaraderie, the scientific method and the importance of persistence, it's a winner!
Highly recommended for boys and girls aged 7+.
---
Athina Clarke is the children's book buyer at Readings Malvern.
This item is in-stock and will ship in 2-3 business days
Please note, our stock data is updated overnight, and availability may change throughout the day. Prices are subject to change without notice.