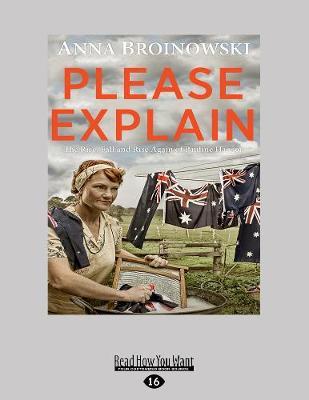 Please Explain
In 1996, Pauline Hanson gave a speech that changed Australia. Targeting Asian and Indigenous people and foreign aid, Hanson unleashed a Pandora's box of division on the country. When she famously lost her federal seat in 1998, her political downfall seemed assured - but she stayed firmly in the spotlight, whether she was being locked up for electoral fraud or jiving on Dancing with the Stars. Now, after almost two decades in the political wilderness, Hanson is back in the Senate and more powerful than ever. Before One Nation's astonishingly successful return to Australian politics in 2016, multi-award-winning filmmaker Anna Broinowski had complete access to Hanson and her 'Fed Up' election campaign. Broinowski followed Hanson as she flew from Rockhampton to Sydney to Great Keppel Island and beyond in her Jabiru two-seater. The absurdity, the discord and the hatred Hanson attracts and inflames were all on show - sometimes funny, sometimes frightening, and often surreal. At the time, no one was taking Pauline Hanson and One Nation's political chances seriously, but Broinowski quickly realised that there was a movement forming. Pauline Hanson's explosive political journey mirrors Australia's own: from left-leaning multiculturalism, to the divided landscape we live in now. And, alongside the shocks of Brexit and Trump's presidency, Hanson's resurrection reflects a broader global trend towards outrageous far-right outsiders. Please Explain is a compelling, intimate look at how an Ipswich fish and chip shop lady changed our nation - and how (whether we like it or not) she speaks directly to Australian society and our multicultural identity today.
This item is not currently in-stock, but it's available to order online.
Please note, our stock data is updated overnight, and availability may change throughout the day. Prices are subject to change without notice.