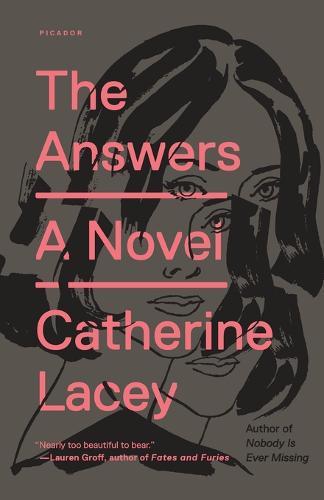 The Answers
Named to Most Anticipated and Must Read lists by Huffington Post, W, Nylon, Elle, Buzzfeed and Chicago Reader Written by one of Granta's Best Young American Novelists, Catherine Lacey's The Answers is a novel of intellect and amplitude that deepens as it moves forward (The New York Times) about a woman learning to negotiate her ailment via the simulacrum of a perfect romantic relationship. Mary Parsons is broke. Dead broke, really: between an onslaught of medical bills and a mountain of credit card debt, she has been pushed to the brink. Hounded by bill collectors and still plagued by the painful and bizarre symptoms that doctors couldn't diagnose, Mary seeks relief from a holistic treatment called Pneuma Adaptive Kinesthesia–PAKing, for short. Miraculously, it works. But PAKing is prohibitively expensive. Like so many young adults trying to make ends meet in New York City, Mary scours Craigslist and bulletin boards for a second job, and eventually lands an interview for a high-paying gig that's even stranger than her symptoms or the New Agey PAKing. Mary's new job title is Emotional Girlfriend in the Girlfriend Experiment –the brainchild of a wealthy and infamous actor, Kurt Sky, who has hired a team of biotech researchers to solve the problem of how to build and maintain the perfect romantic relationship, casting himself as the experiment's only constant. Around Kurt, several women orbit as his girlfriends with specific functions. There's a Maternal Girlfriend who folds his laundry, an Anger Girlfriend who fights with him, a Mundanity Girlfriend who just hangs around his loft, and a whole team of girlfriends to take care of Intimacy. With so little to lose, Mary falls headfirst into Kurt's messy, ego-driven simulacrum of human connection. Told in Catherine Lacey's signature spiraling, hypnotic prose, The Answers is both a mesmerizing dive into the depths of one woman's psyche and a critical look at the conventions and institutions that infiltrate our most personal, private moments. As Mary struggles to understand herself–her body, her city, the trials of her past, the uncertainty of her future–the reader must confront the impossible questions that fuel Catherine Lacey's work: How do you measure love? Can you truly know someone else? Do we even know ourselves? And listen for Lacey's uncanny answers.
This item is not currently in-stock. It can be ordered online and is expected to ship in 3-4 weeks
Please note, our stock data is updated overnight, and availability may change throughout the day. Prices are subject to change without notice.