Stories for Boys Who Dare to be Different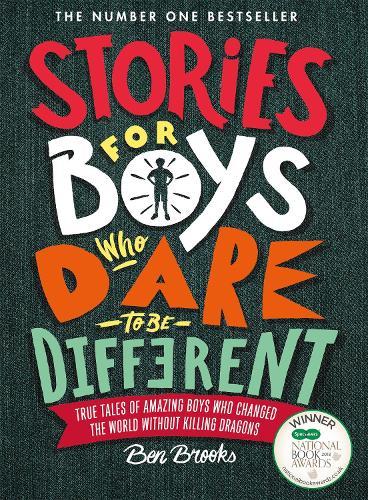 Stories for Boys Who Dare to be Different
In fact, a whole lot of them out there don't identify with the idea of being a strong, independent, competitive saviour who never cries. As a boy, there is an assumption that you will conform to this stereotypical idea of masculinity, but what if you're the introvert kind, what if you prefer to pick up a book rather than a sword, what if you're very sensitive, what if you like the idea of wearing a dress?
As statistics keep showing that there is an ongoing crisis with regards to young men and mental health, with unhelpful gender stereotypes contributing to this malaise, Stories for Boys Who Dare To Be Different offers a welcome alternative narrative. It is an extraordinary compilation of 100 stories of famous and not-so-famous men from the past to the present day, every single one of them a rule-breaker and innovator in his own way, and all going on to achieve amazing things. Entries include Frank Ocean, Salvador Dali, Rimbaud, Beethoven, Barack Obama, Ai Weiwei and Jesse Owens - different sorts of heroes from all walks of life and from all over the world.
A beautiful and transporting book packed with stories of adventure and wonderment, it will appeal to those who need the courage to reject peer pressure and go against the grain. It will educate and entertain, while also encourage and inspire.
Review
Stories for Boys Who Dare to be Different is a welcome addition to the collections of biographies designed to inspire children. Similar to Good Night Stories for Rebel Girls, it offers 100 snapshot biographies of boys and men who pursue their passions/interests/rights, often against expectations.
These accessible stories range from historical figures in all fields, such as Mahatma Gandhi, Galileo Galilei, and Nelson Mandela, to contemporary figures with strong values who set positive models of activism, such as Ai Weiwei, Jamie Oliver, or Steve Irwin. There are also individuals whose stories are more personal – dealing with gender decisions, overcoming learning or physical difficulties, or making challenging decisions – including Vedran Smailovic, who played his cello for 22 days amidst the ruins of besieged Sarajevo to honour the dead. And, finally, there are stories of boys who have taken action. For example, after learning about the shortage of clean water in Africa, 6-year-old Ryan Hreljac fundraised to buy a well and eventually formed a charity organisation.
In order to create a world in which everyone is equal and free, we must give our boys something to aim for. My 12-year-old son pored over Good Night Stories for Rebel Girls and found Stories for Boys Who Dare to be Different equally inspiring. Be prepared for all the questions, ideas and rich conversations these snapshots will generate.
---
Janine Larson works as a bookseller at Readings Kids.
This item is in-stock and will ship in 2-3 business days
Please note, our stock data is updated overnight, and availability may change throughout the day. Prices are subject to change without notice.