Elementals: Ice Wolves (Book 1)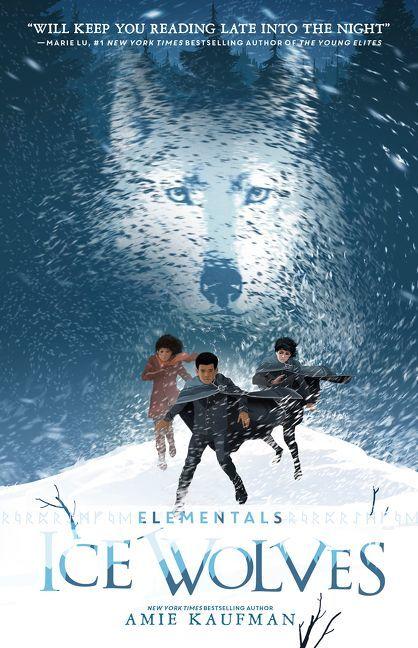 Elementals: Ice Wolves (Book 1)
Finalist for the Readings Children's Book Prize 2019
Everyone in Vallen knows that ice wolves and scorch dragons are sworn enemies who live deeply separate lives.
So when twelve-year-old orphan Anders takes one elemental form and his twin sister, Rayna, takes another, he wonders whether they are even related. Still, whether or not they're family, Rayna is Anders's only true friend. She's nothing like the brutal, cruel dragons who claimed her as one of their own and stole her away.
In order to rescue her, Anders must enlist at the foreboding Ulfar Academy, a school for young wolves that values loyalty to the pack above all else. But for Anders, loyalty is more complicated than obedience, and friendship is the most powerful shapeshifting force of all.
New York Times bestselling author Amie Kaufman delivers heart-pounding adventure and breathtaking magical inventions in this unforgettable story about finding one's place in a sharply divided world.
Review
Anders and his sister Rayna are twin orphans who live on the streets and pick pockets to survive. Their island, Vallen, is controlled by warring elemental creatures, Ice Wolves and Scorch Dragons, and their town is home to the wolves. When their thievery goes wrong at the famous Trial of the Staff, they both end up on stage and, remarkably, Rayna turns into a Scorch Dragon and Anders an Ice Wolf. This is meant to be impossible, since transformation powers are inherited and their family should be either dragon or wolf, not both.
Rayna is captured by dragons and flown to the mountains and Anders finds himself at the Ulfar Academy, where young wolves are trained. Anders is determined to find his sister again, believing she will be harmed by the dragons, and spends all his energies attempting to find her. But relations between dragon and wolf are bitter and his path is difficult and dangerous.
Amie Kaufman has seamlessly transitioned from her usual genre, sci-fi Young Adult, to produce an exciting middle-grade fantasy adventure set in a richly imagined world. Readers will enjoy the intrigue and the cliff-hanger ending will leave them breathlessly awaiting the next book. This is thrilling reading for fantasy and adventure lovers aged 10–13.
---
Angela Crocombe is the shop mananger at Readings Kids.
This item is in-stock and will ship in 2-3 business days
Please note, our stock data is updated overnight, and availability may change throughout the day. Prices are subject to change without notice.