Watching Out: Reflections on Justice and Injustice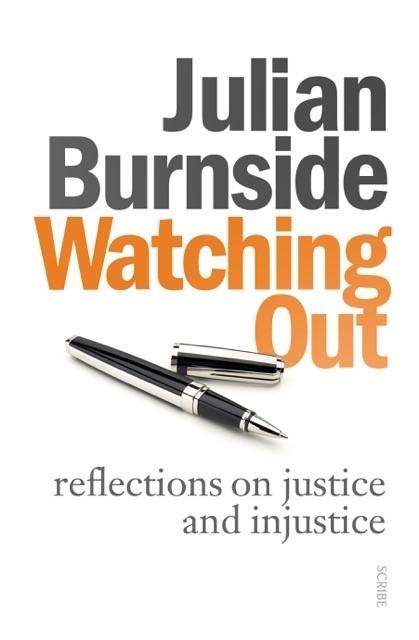 Watching Out: Reflections on Justice and Injustice
When put to the test, most people have difficulty identifying what justice is, especially when there is tension between proper process and a desired result. Due process is inherent in our conception of justice. But bad process can yield the right result, just as good process can produce the wrong result. The legal system is designed to produce justice. We call it the justice system - sometimes un-selfconsciously, sometimes with bitter irony. It is designed to produce justice according to law. Whether it achieves that goal is not the subject of general agreement.'
In
Watching Out,
a successor volume to his best-selling Watching Brief, noted barrister and human-rights advocate Julian Burnside explains the origins of our legal system, looks at the way it operates in practice, and points out ways in which does and doesn't run true to its ultimate purposes.
He examines fundamental legal principles, such as the presumption of innocence, explains why good barristers defend bad people, and sets out legal remedies for wrongs done to individuals and groups.
The law's reach is immense, and so is the territory this book covers. Legal aid, class actions, assisted dying, counter-terrorism, unjust verdicts, and the treatment of asylum-seekers are some of the contentious subjects dealt with here. There is also a compelling chapter on the plight of people who are bereft of legal remedies, living on the margins of society, and shocking examples of hate mail that Burnside's defence of refugees has provoked.
Rich with fascinating case studies, and eloquent in its defence of civil society,
Watching Out
is a beacon of legal liberalism in an intemporate age.
Review
Julian Burnside, intellectual hero of the left and early advocate for the rights of asylum seekers, voted Liberal in every election from 1972 to 1996. And while he infamously defended the MUA in the waterfront dispute with Patrick Stevedores, it was more due to his adherence to the 'taxi-cab' rule of being a barrister – taking any case offered if available and reasonably compensated for it – than any political or even moral allegiance. (Though he's now glad he was on the side of the union.) These contradictions make him especially interesting as a thinker and accidental activist: he's driven not by ideology, but by the law, learned experience and his personal morals.
Watching Out, the successor to his bestseller Watching Brief, explains the basics of our legal system, how it works and how and why it fails, using this framework (and real-life cases) to explore the difference between the law and justice, and how we might bridge the existing gap between the two. Along the way, he traces the political and legal evolution (devolution?) of Australia's treatment of asylum seekers since the Tampa affair. He also deftly analyses the case for an Australian bill of rights, comparing possible models with those of other western societies – and emphasising that the much-touted US Bill of Rights was originally not about human rights, but 'all about constraining the power of the new federal government' in a nation built on repelling a colonial monarchy. (A fascinating detail, in the context of America's pathological fear of government intervention.)
'A denial of basic rights is not compatible with a just society,' Burnside writes. 'Equally, a society that denies these rights is unlikely to be a decent society since, with few exceptions, the elements of human rights coincide with the dictates of morality.' Australia, he logically concludes, is not a just society, contrary to our image of ourselves as champions of the 'fair go'.
---
Jo Case is the editor of Readings Monthly and a bookseller at Readings Doncaster.
This item is not currently in-stock. It can be ordered online and is expected to ship in 3-6 days
We are currently experiencing delays in processing and delivering online orders. Click here for more information.
Please note, our stock data is updated overnight, and availability may change throughout the day. Prices are subject to change without notice.