The Family with Two Front Doors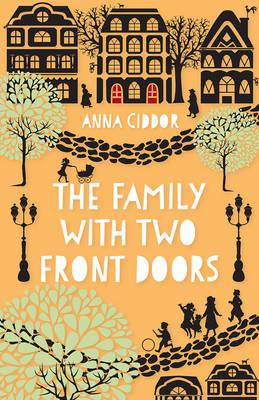 The Family with Two Front Doors
Meet the Rabinovitches: mischievous Yakov, bubbly Nomi, rebellious Miriam, solemn Shlomo, and seven more! Papa is a rabbi and their days are full of intriguing rituals and adventures. But the biggest adventure of all is when big sister Adina is told she is to be married at the age of fifteen - to someone she has never met…Based on the author's real family, the Rabinovitches dance, laugh and cook their way through an extraordinary life in 1920s Poland…
In the classic tradition, this highly readable story is fascinating, engaging and as warm as freshly baked bread.
Review
What a treat it is to spend time with the Rabinovitches, a loving family living in Lublin, Poland during the 1920s, a family so large they need two apartments, hence the two front doors: one blue, the other brown. Right there reader – what wouldn't you give to be a fly on the wall!
From the outset, the author's friendly voice beckons the reader into the palpable excitement of this exuberant family. Whether it's the feverish anticipation of a prospective wedding or the minutiae of everyday adventures everyone has an important role to play regardless of age and I quickly became part of the family, anticipating their fears, relishing in their joys and laughing at their mischief making.
So well-drawn are the characters, it's not surprising that this compelling book is based on fact – the ten-year-old 'Nomi' of the story was the author's grandmother! The story is refreshingly joyous and satisfying, and a window into the fascinating rituals and traditions of an Orthodox Jewish family. But more significantly it celebrates the importance of family life and the curiosity of children. It's warm and humorous and as delectable as the food within its pages.
Highly recommended for ages 9 and up.
---
Athina Clarke is a Children's & YA Book Specialist at Readings Malvern.
This item is in-stock and will ship in 2-3 business days
Please note, our stock data is updated overnight, and availability may change throughout the day. Prices are subject to change without notice.