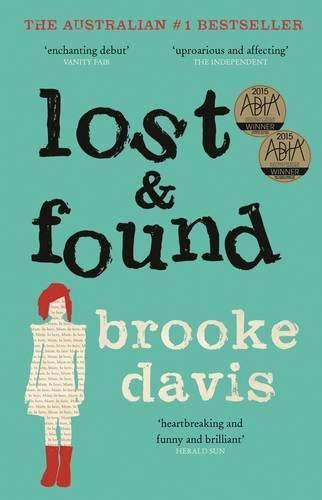 Lost & Found
At seven years old, Millie Bird realises that everything is dying around her. She wasn't to know that after she had recorded twenty-seven assorted creatures in her Book of Dead Things her dad would be a Dead Thing, too.
Agatha Pantha is eighty-two and has not left her house since her husband died. She sits behind her front window, hidden by the curtains and ivy, and shouts at passers-by, roaring her anger at complete strangers. Until the day Agatha spies a young girl across the street.
Karl the Touch Typist is eighty-seven when his son kisses him on the cheek before leaving him at the nursing home. As he watches his son leave, Karl has a moment of clarity. He escapes the home and takes off in search of something different.
Three lost people needing to be found. But they don't know it yet. Millie, Agatha and Karl are about to break the rules and discover what living is all about.
Review
Expressions like 'heartwarming' or 'finding meaning' are thrown around fairly liberally in book reviews or publisher blurbs. But what to do when the story really is as heartwarming as this one? If you can read Brooke Davis' debut novel, Lost & Found, and not find such praise deserving, then your heart must be a cold ocean!
Lost & Found is the quirky story of seven-year-old Millie Bird, lost and found by two completely eccentric older people, Agatha Pantha and Karl the Touch Typist, who decide to help Millie find her mum. Millie, with her shock of red curly hair is a contagiously sweet character (think Annie meets Pollyanna meets Lucy from Peanuts and you'll be nearly there). Davis writes with such clarity that I know exactly what these characters look like, right down to the expressions that cross their faces as they traverse from one side of our country to the other in a mad dash against time and reality.
Davis has written a poignant story about accepting life and death, but for me, this also seems to be the tale of Australia. Davis catches our landscape and our characters, both urban and rural, with her clever twists of phrase, showing herself to be a writer that understands the importance of detail. There is a road trip, but not as you know it. There are trains, buses and cars; there are the good people and the bad; there is kindness shown and ignorance; and there are stereotypes smashed to smithereens as the narrative rounds itself into a love story.
Lost & Found is worthy of the admiration it is receiving. The rights to this book have been sold widely overseas, and I've already bought the popcorn for the movie that is bound to follow.
---
Chris Gordon is the Events Manager for Readings and is a committee member of The Stella Prize.
This item is not currently in-stock. It can be ordered online and is expected to ship in 3-6 days
We are currently experiencing delays in processing and delivering online orders. Click here for more information.
Please note, our stock data is updated overnight, and availability may change throughout the day. Prices are subject to change without notice.