On Immunity: An inoculation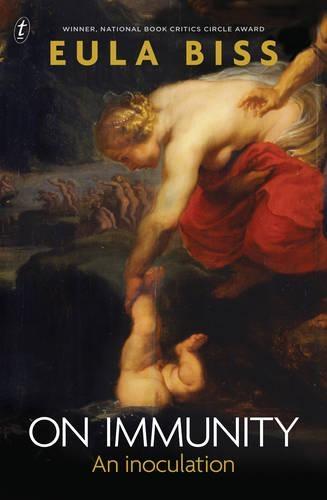 On Immunity: An inoculation
When Eula Biss became a mother, she stepped into a new world of fear: fear of the government, the medical establishment, the contents of her child's air, food, mattress and vaccines. In this bold, fascinating book, Biss investigates the metaphors and myths surrounding our conception of immunity, and its implications for the individual and the social body.
Weaving her personal experiences with an exploration of classical and contemporary literature, Biss considers what vaccines, and the debate around them, mean for her own child, her immediate community and the wider world.
On Immunity
is an inoculation against our fear and a moving account of how we are all interconnected;our bodies and our fates.
Review
Eula Biss's elegant examination of our fear of vaccination opens with Achilles being dipped into the River Styx and closes with the metaphor of a garden. In between, Biss talks about milkmaids and scientists, about triclosan and thimerosal, about Rachel Carson's Silent Spring and Voltaire's Candide. Her ability to draw connections between disparate ideas is thrilling. She links vaccination to slavery, communism, vampirism, class struggles – and, always, you are in safe hands with Biss. Her work has been compared with the writings of significant female essayists, including Sontag, Didion and Solnit, and it's easy to see why with her deep empathy for the subject, her ranging intellect and her cool sophistication.
Biss is particularly interested in the different ways language and stories are used in relation to immunity. She considers our predilection for using metaphors of war to describe bodies, our obsession with achieving 'purity' and our belief that 'natural' is always superior. She writes, 'We seem to believe, against all evidence, that nature is entirely benevolent.' The vampire is a recurring motif. For Biss, the personal significance of this creature has its roots in her son's birth. After an otherwise uncomplicated delivery, her uterus burst and she later received a blood transfusion for the two litres she'd reportedly lost. Biss describes this event in gorgeously evocative prose, which stayed with me long after finishing the book: 'the lapping of small waves as the blood pooled', 'Human hands were in me'.
But Biss's vampire goes far beyond the personal. She writes, 'Our vampires, whatever else they are, remain a reminder that our bodies are penetrable. A reminder that we feed off of each other, that we need each other to live.' Over and over again, Biss's reflections reveal the importance of community. Fittingly, this metaphor extends even into the structure of her book. Biss's ideas don't fit together like a jigsaw puzzle but, rather, they overlap in layers. Her chapters leak – like us, they bleed.
---
Bronte Coates is the Digital Content Coordinator. She is a co-founder of literary project, Stilts.
This item is in-stock and will ship in 2-3 business days
Please note, our stock data is updated overnight, and availability may change throughout the day. Prices are subject to change without notice.