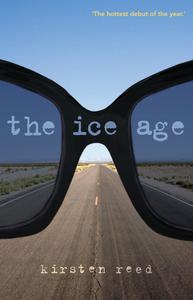 The Ice Age
We stopped at a roadside diner. People asked if I was his daughter. They ask all the time. Hoping, accusing. We never say yes, and we never say no. We ate our food at a booth in a hungry, self-conscious rush, straight out of the wrappers. They didn't have plates. We left a tip, just change. The waitress scooped it up straight away as we slid out of the booth. She was middle-aged and bulgy, in a proper matronly waitress's dress. She shot us what I suppose was intended to be a look of gratitude. She really only managed a weak glare. I guess that's the countryside for you. People are a little edgy.' Across the heartless expanse of middle America, a teenaged girl is riding shotgun with an older man. She watches him; she sees her fascination tallied in the black looks of waitresses, the knowing smiles of motel clerks. The man can see no proper way of conducting this relationship but is bound to her by concern and tenderness; perhaps desire. The girl craves only closeness. She knows the Ice Age is coming, and we will need to huddle together for warmth. Kirsten Reed's debut novel, with its echoes of Nabokov, Kerouac and Bret Easton Ellis, captures the translucent moment at the end of childhood in all its awkwardness, sincerity and heedless vulnerability. In prose both lyrical and earthy, comic and darkly harrowing, this extraordinary young writer creates a journey of irresistible momentum and tragic possibility. It will leave you with the sense that you have met someone significant; and you will not soon forget her.
Review
by Jo Case, editor of Readings Monthly
This ethereal debut has been compared to Lolita and On the Road. Certainly, the beautiful teenage narrator, zig-zagging the vast interior of the US with an enigmatic, much-older companion, seems a fantasy Lolita. She is eager for experience and hungry for love, the puppy dog seducer in her undefined relationship with reluctant 'reformed hedonist' Gunther. 'Guys just can't resist the advances of us young chicks, I'm told,' she observes hopefully.
This is a story about loss of innocence, ambiguously portrayed. There's an Alice in Wonderland quality to the narrator's journey through a sinister small-town America populated by oddly menacing average Americans and a string of likeable eccentrics (Gunther's friends). The fine line she treads between the childhood she is exiting and the newly strange adult world gifts her with a curious perspective: an Alice-like blend of naivety and knowingness. 'When I'm older, if I'm anything like the rest of them, I'll have lost the ability to understand anything.'
The narrator both loses and gains from her accumulated experience, becoming more wary and knowing as a result of her many mishaps, but accruing friendship and a growing hoard of knowledge, too. Atmospheric and intriguing.
This item is not currently in-stock. It can be ordered online and is expected to ship in 3-6 days
Please note, our stock data is updated overnight, and availability may change throughout the day. Prices are subject to change without notice.