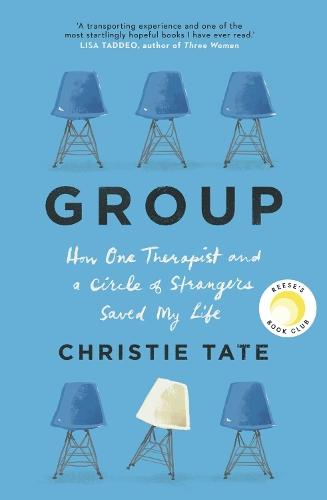 Group
The refreshingly original debut memoir of a guarded, over-achieving, self-lacerating young lawyer who reluctantly agrees to get psychologically and emotionally naked in a room of six complete strangers - her psychotherapy group - and in turn finds human connection, and herself.
Christie Tate had just been named the top student in her law school class and finally had her eating disorder under control. Why then was she driving through Chicago fantasising about her own death? Why was she envisioning putting an end to the isolation and sadness that still plagued her in spite of her achievements? Enter Dr. Rosen, a therapist who calmly assures her that if she joins one of his psychotherapy groups, he can transform her life. All she has to do is show up and be honest. About everything - her eating habits, childhood, sexual history, etc. Christie is skeptical, insisting that that she is defective, beyond cure. But Dr. Rosen issues a nine-word prescription that will change everything: You don't need a cure, you need a witness.
So begins her entry into the strange, terrifying, and ultimately life-changing world of group therapy. Christie is initially put off by Dr. Rosen's outlandish directives, but as her defenses break down and she comes to trust Dr. Rosen and to depend on the sessions and the prescribed nightly phone calls with various group members, she begins to understand what it means to connect.
Group is a deliciously addictive read, and with Christie as our guide - skeptical of her own capacity for connection and intimacy, but hopeful in spite of herself - we are given a front row seat to the daring, exhilarating, painful, and hilarious journey that is group therapy - an under-explored process that breaks you down, and then reassembles you so that all the pieces finally fit.
Review
Christie Tate, by most objective measures, is a success. She's graduating top of her class from law school and is well on her way to a high-powered career. But underneath her veneer of control lies an unsettled body and mind. Struggling with a history of bulimia, suicidal ideation and anxiety surrounding her inability to maintain a healthy romantic relationship, Tate begins group therapy with the unconventional Dr. Jonathan Rosen. Starting with 90 minutes per week, Tate joins more and more of Rosen's groups over the years until she is participating in 280 minutes of group therapy a week. (I can't imagine being able to commit that much time to therapy as a bookseller, much less as a high-powered attorney working at one of the most prestigious law firms in the US.)
Tate is a bit of a controversial figure. She came under fire in 2019 for an opinion piece in the Washington Post about her refusal to stop writing about her daughter after being explicitly asked by her child not to. This compulsion to write honestly and openly is evident in her debut book. It is an intensely personal, unflinching account of her life in therapy – warts and all. Tate transports her readers right into the group with her and you feel like you're sitting in that circle with Dr. Rosen and a varied cast of characters. The reading experience is both enlightening and frustrating. I constantly alternated between wanting to give the vulnerable Tate a hug and wanting to physically shake some sense into her. In spite of my frequent frustrations with Tate as a figure in this narrative, there is no denying that this is a welcome addition to the growing number of books aimed at destigmatising therapy. I recommend it for fans of Lori Gottlieb's Maybe You Should Talk to Someone, and Gillian Straker and Jacqui Winship's The Talking Cure.
---
Tristen Brudy works as a bookseller at Readings Carlton.
This item is in-stock and will ship in 2-3 business days
Please note, our stock data is updated overnight, and availability may change throughout the day. Prices are subject to change without notice.